Packaging & Delivery
| | |
| --- | --- |
| Packaging Details: | 25kg/paperboard drum 1kg/ aluminum foil bag |
| Delivery Detail: | 2-3 weeks after the deposit |
Specifications
wholesale from factory directly
high quality and best service
Comepetitive price


Glycine Industrial Grade Feature:
white guitar crystal or crystalline powder and suitable. sweet taste,easy to be dissolved in water, slightly dissolved in methanol and ethanol, but not dissolved in acetone and ether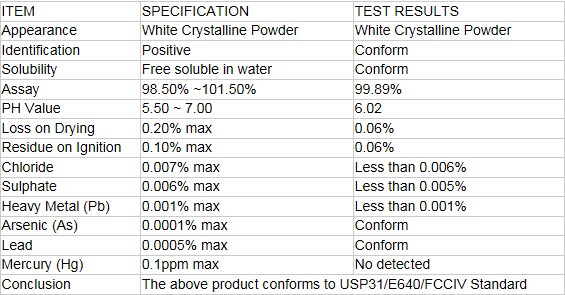 (1) Used as a flavoring or sweetener,in combination with DL-alanine or Citric acid, it can be used in Alcoholic beverage, used as an acid corrector or buffer for the composition of wine and soft beverage,used as an additive for the flavor and taste of food,retain its original color and to provide a source of sweet; (2) Used as an antiseptic agent for fish flakes and peanut jams; (3) Can play a buffering role in the taste of edible salt and vinegar; (4) Used in food processing, brewing process, meat processing and soft beverage formulas as well as in Saccharin Sodium in order to remove bitterness; (5) Can play a certain role in metal chelation and antioxidation,used as a stabilizer for cream, cheese,margarine,fast cooked noodles or convenient noodles,wheat flour and pig lard. (6) Used as a stabilizer for Vitamin C; (7) 10% raw material of Monosodium Glutamate is Glycine. (8) Used as an antiseptic agent.
Store in a well-ventilated, cool, dry area, out of direct sunlight. Keep containers tightly closed when not in use ,
avoid storing with poisonous and harmful material.
Anna
Tel : 0311 6730 0879 Fax: 0311 6730 0879
E-mail:sales-5@granraybio.com
Webset:www.granraybio.com
Skype:an.na0210
Zhaocounty Granray Bioproducts Co., Ltd
Address:.Biotechnology industrial area Nanbaishe Town Zhaoxian ,Shijiazhuang City Hebei Province,China