Anti-Hypoactive Sexual Desire Disorder Flibanserin CAS 167933-07-5
Region: Zhejiang
Minimum Order Quantity:
Monthly Production Capacity:
We are rich experience Flibanserin CAS 167933-07-5 export in China. Flibanserin CAS NO 167933-07-5 is also called BIMT17 that is a 5-HT1A receptor agonist and 5-HT2A receptor antagonist. Study shows that Flibanserin 167933-07-5 is high affinity for human 5-HT1A receptors (Ki = 1 nm) and lower affinity for 5-HT2A (Ki = 49 nm) and D4 (Ki = 4–24 nm) receptors which is developed for the treatment of hypoactive sexual desire disorder in women. We can offer Flibanserin range from gram grade to kilogram grade.
Thera. Category:Treatment of hypoactive sexual desire disorder in women.
Cas No.: 167933-07-5
Synonyms: Flibanserin;Bimt 17;3-[2-[4-[4-(Trifluoromethyl)phenyl]piperazin-1-yl]ethyl]-1H-benzimidazol-2-one;Filbanserin;Flibanerins;1,3-Dihydro-1-[2-[4-[3-(trifluoromethyl)phenyl]-1-piperazinyl]ethyl]-2H-benzimidazol-2-one;BIMT 17BS;Flibanserin(BIMT17)
Molecular Formula: C20H21F3N4O
Molecular Weight: 390.4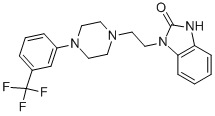 Assay: ≥99%
Packing: Export worthy packing
Material Safety Data Sheet: Available on request
Usage:
Flibanserin (code name BIMT-17) is a drug being studied as a non-hormonal treatment for pre-menopausal women with hypoactive sexual desire disorder (HSDD).