Time : February 26-28, 2020
Venue : Intex Osaka
Region : Japan
Organizer :Reed Exhibitions Japan Ltd.、Reed Exhibitions Companies
Gathers All Kinds of Technologies for Medical Device Development!
This specialised exhibition will bring together the latest technologies required to design and manufacture medical devices, such as metal/plastic processing technology, manufacturing equipment, equipment components, factory automation technology, measuring technology, image technology, packaging technology and various IT solutions. It attracts a great number of medical device manufacturers who manufacture syringes, thermometers, artificial organs, catheters, MRI systems, patient monitors, etc. and conduct concrete business meetings with them.
■ Exhibit Profile:
Medical Device Development Products and Technologies
Mechanical Components
Medical Material
Deburring Technology
Motion Technology
Washers, Cleaners
Motors
IT Solutions
Sterilization Products
etc.
Medical Robots Development Fair [Special]
Mechanical Components for Medical Robot,
Care Robot, Life Support Robot
Material
Sensors
IT Solutions
Electronic Components
etc.
Needle, Pipe Zone
etc.
Tube Zone
Coating, Surface Treatment Zone
etc.
Pump Zone
OEM Zone
Medical Device OEM/ODM
Contract Design/Manufacturing for Electronic Devices
Disposable Product OEM/ODM
Various Contract Design/Manufacturing
etc.
Electronic Components Zone
Electronic Components
Semiconductors
Power Supplies, Batteries
Embedded Technologies
Connectors, Cables
EMC, Noise Reduction
PCBs
Thermal Control Technology
etc.
Testing/Measurement Device & Sensor Zone
Testing Devices
Measurement Devices
Analytical Equipment
Inspection Equipment
etc.
CAD/3D Printer Zone
etc.
Prototype Manufacturing & Processing Technology Zone
Cutting
Molding/Casting
Press Work
Forging
Plating
Surface Treatment, Surface Modification
Tools
Machine Tools, Molding Machines
etc.
■ Visitor Profile:
Medical Device Manufacturers, Health Care Equipment Manufacturers, Medical Robot Manufacturers especially from following departments:
Design & Development
R&D
Prototype Manufacturing
Assembling
Purchasing
Quality Control
IT System
Logistics
Management
1. World's 3rd Largest Market with a Huge Number of Medical Facilities
Japan is the world's 3rd largest medical market! In addition, the high rate of aging population results in expansion and construction of new hospitals and
elderly-care facilities. This trend leads to the expansion of the medical industry.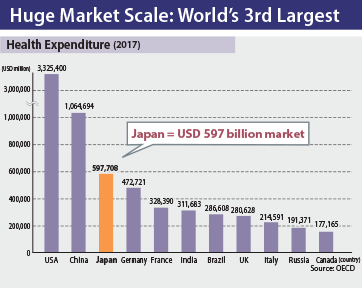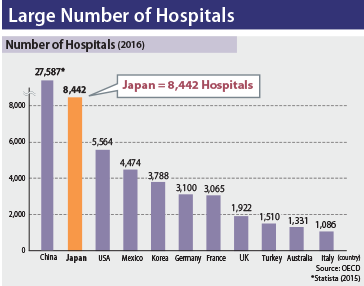 2. Huge Amount of Imported Medical Devices = JPY 1,424 Billion (USD 13.1 Billion)
The Japanese medical device market relies heavily on imported products.
The annual sales amount of medical devices in Japan was JPY 2,748 billion
(USD 25.2 billion) (2015), 52% of which were imported products.

3. Japan's national strategy to nurture the medical industry
The Japanese Government selects the medical industry as a priority sector and to nurture it, is pushing overall reform. Easing of regulations and launches of new projects are activating the Japanese medical industry.
Example:
Establishment of Japan Agency for Medical Research and Development (AMED) (In April 2015)
Enacting Regenerative Medicine Law
Revision of the Pharmaceutical Affairs Law related to Medical Equipment
Exhibit at MEDICAL JAPAN
and take full advantage of the business opportunities!