Lately, En-CPhI.CN interviewed General Manager of Pharmaceutical Processing Solution Co., Ltd, Mr. Gaopin Yang.
Pic: Mr. Gaopin Yang, Provided by PPS
1. Many pharmaceutical companies at home and abroad are very concerned about the new pharmaceutical technology. Please introduce the technical level of HME hot melt extrusion and TSG twin screw granulation, which is the main technology of PPS.
Pharmaceutical Processing Solution Co., Ltd(PPS) is a professional company that can provide total solution of hot melt extrusion for pharmaceutical application. Dr. Gaopin Yang, the founder of PPS, worked for DuPont and GE R&D center about 10 years on extrusion technology. PPS have the "know-how"on extrusion equipment and process to meet customer need for hot melt extrusion application. Our HME equipment has advantages on temperature control、torque、special screw elements and so on, for example, the torque of our PPS TSE16 P model is at least two times bigger than Thermal fisher Pharma 16 HME model (32NM/shaft VS 12NM/shaft) with the same diameter 16 mm. Further, PPS can provide the customerized design for meet GMP compliance、sterile requirement、plant footprint and so on. PPS also provide the technical service to help customer successfully complete the scale up process from lab to production.
PPS recently launched PPS TSE8 P model with the diameter 8 mm for HME application, which is the smallest HME equipment in China. PPS TSE8 P is very suitable for API and excipients screening study during the formulation development phase. It is very effective to save the consumption of API and excipients with throughput as few as 5g/h, which has huge advantage for expensive API. Further, the R&D work will also be accelerated with PPS TSE8 P. In a word, PPS TSE8P should be a perfect HME equipment for research institutions and R&D department of Pharmaceutical companies.
As to the key unit operation of continuous manufacturing-granulation, PPS, as a pioneer in China, has launched twin screw granulation (TSG) equipment. Compared to other international band, PPS TSG equipment avoid the wear and damage of screw elements. Further, PPS TSG equipment has the ability to control temperature precisely.
2、 What are the practical applications of hot melt extrusion technology in the pharmaceutical field?
The main applications of hot melt extrusion are below:
1) Enhancing solubility and bioavailability
2) Sustained release oral dosage form
3) Targeted release dosage form
4) Parenteral depots and topical drug delivery systems
5) Taste masking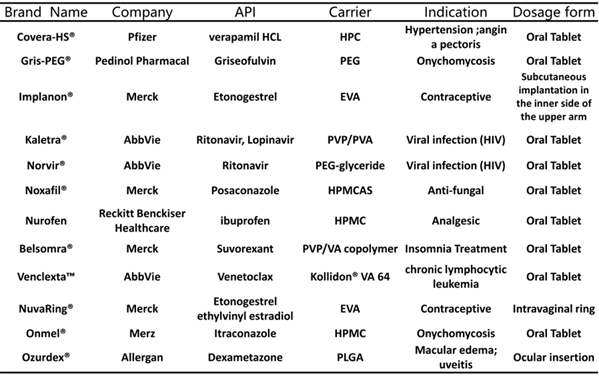 Hot melt extrusion technology has been widely applied in USA and European pharmaceutical industry. There are many drugs have been approved by FDA and commercialized, as showed in the below table. In China, there are also some commercialized drugs prepared by HME technology. PPS devote to advance the development of HME in pharmaceutical industry in China by building the collaboration with research institutions and pharmaceutical companies.
3. As a relatively young enterprise, what is your future development blueprint? Especially in the field of medicine.
Although PPS is a new company in pharmaceutical industry, we has the vision to become the leader in HME and TSG technology in China based on our accumulated knowledge in extrusion technology and the collaboration with University of Texas at Austin、National Pharmaceutical Engineering Research Center (China) and Shanghai University of Traditional Chinese Medicine. Meanwhile, PPS has been starting the research on the key enable technology of continuous manufacturing. We hope to advance the development of continuous manufacturing in China.
4. What new technology and new materials are worth paying special attention to in the forefront of pharmaceutical technology and packaging materials?
In my opinion, as an emerging technology, continuous manufacturing (CM) should be followed and studied by China pharmaceutical industry. FDA、EMA and PMDA all fully encourage and support the application of CM, especially, FDA has invested much resource on research and promotion for the application of CM. International famous pharmaceutical companies also have deployed CM systems worldwide. So far, there are three drugs made by CM system has commercialized. PPS hope to build the collaboration with research insititutions and companies to advance CM in China.
About Pharmaceutical Processing Solution
Pharmaceutical Processing Solution Co., Ltd(PPS) is a professional high-tech company on melt processing and twin screw granulation technology for pharmaceutical application. PPS has the "know-how" on melt processing and twin screw granulation. Furthermore, PPS has excellent competence on design、manufacture and assemble to meet customer needs (including customized requirements). PPS devotes to providing the total solution of melt processing and twin screw granulation for our customer.
-----------------------------------------------------------------------
Editor's Note:
To apply for becoming a contributor of En-CPhI.cn,
welcome to send your CV and sample works to us,
Email: Julia.Zhang@ubmsinoexpo.com.