It was revealed that by September 30, i.e., about one month after the marketing in China, the sales revenue of the two anti-PD-1 monoclonal antibody drugs: Opdivo and Keytruda separately reached RMB 190 million and RMB 150 million, showing amazing performance.
| | | | | |
| --- | --- | --- | --- | --- |
| Drug name | Abbreviation | Manufacturer | Marketing time in China | Time of first prescription |
| Opdivo | O Drug | BMS | June 15, 2018 | August 28, 2018 |
| Keytruda | K Drug | MSD | July 25, 2018 | September 21, 2018 |
According to Pharmcube's research on return on investment of new drugs marketed in China, it used to take averagely 10 years for new drugs to achieve RMB 100 million sales in China, however, this situation is changing as China's drug regulation environment changes.
The marketing of the non-small cell lung cancer (NSCLC) new drug: osimertinib is an event worth mentioning: its sales exceeded RMB 500 million within 9 months of marketing in China; in the same year, sales of adalimumab that topped the global list of pharmaceutical product sales were only RMB 200 million in China. Seen from current situation, sales of Opdivo and Keytruda are likely to exceed those of osimertinib (in their first year of marketing), to become new benchmarks for innovative drug sales in China.
Global monoclonal antibody drug market worth USD 100 billion
Monoclonal antibody drugs have been widely applied in oncology and immunotherapy fields, etc. in recent years owing to unique advantages such as significant therapeutic effects and low side effects.
Global sales of monoclonal antibody drugs totaled USD 106.1 billion in 2017, growing by more than 20% than 2016, wherein, the top 7 monoclonal antibody drugs occupied 7 positions of the ranking list of global top 10 best-selling pharmaceutical products in 2017, and contributed total sales of USD 65.6 billion.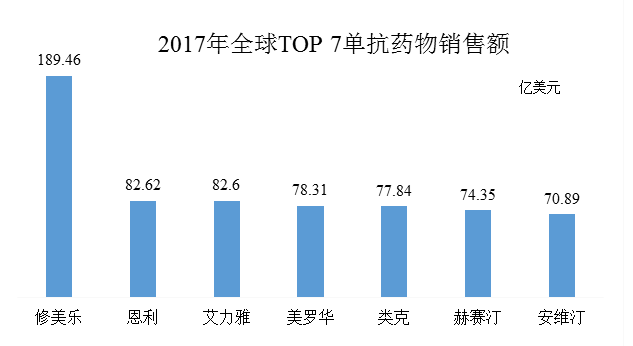 2017年全球TOP7单抗药物销售额

Sales of Global Top 7 Monoclonal Antibody Drugs in 2017

亿美元

USD 100 million

修美乐

恩利

艾力雅

美罗华

类克

赫赛汀

安维汀

Humira

Enbrel

Eylea

Rituxan

Remicade

Herceptin

Avastin
In 2017, Opdivo achieved global sales of USD 4.948 billion, while Keytruda contributed USD 3.809 billion sales revenue for MSD. Roughly speaking, sales performance of Opdivo and Keytruda in global market largely benefits from the innovative drug payment systems of European and American countries: with the developed commercial medical insurances of those countries, innovative drugs will soon be included in the corresponding drug lists of commercial medical insurance products once their efficacy is confirmed, and then will hopefully achieve rapid growth of sales.
Unlike that, most monoclonal antibody drugs in China should be paid by patients themselves, and clinical use of those drugs is very limited in China due to their expensive prices. The new edition of China's medical insurance drug catalog included 2 monoclonal antibody drugs for the first time in 2017, with 7 monoclonal antibody drugs successfully included in the subsequent two negotiations. 9 monoclonal antibody drugs have so far been included in China's medical insurance drug catalog, which is deemed as the fuse for the explosion of monoclonal antibody drugs in China by the industry, indicating that the market demand is expected to be rapidly released.
Read More:
Monoclonal antibody drugs in development in China
29 monoclonal antibody drugs marketed in China
-----------------------------------------------------------------------
Editor's Note:
To apply for becoming a contributor of En-CPhI.cn,
welcome to send your CV and sample works to us,
Email: Julia.Zhang@ubmsinoexpo.com.