I mentioned in previous articles that genotypes of Chinese hepatitis C patients are mainly 1b and 2a/c, with the number of hepatitis C patients of about 26 million in total but treatment rate of less than 0.5%! The market space is huge.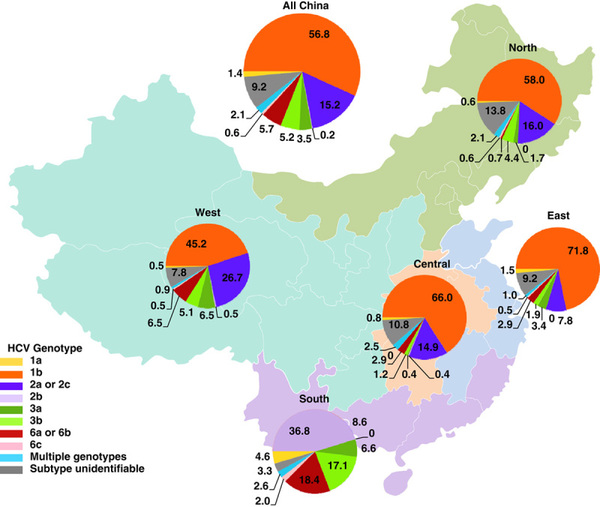 Since the marketing of DAAs in 2017, many DAAs have entered China, which will change the traditional hepatitis C therapeutic regimen of peginterferon (Peg-IFN-α) in combination with ribavirin. China has begun to enter the era of hepatitis C cure!!
So far, there have been many enterprises marketing DAA hepatitis C drugs in China, and Kawin Technology, Gilead, and AbbVie separately have one relevant drug filed the marketing application to NMPA.
Trade name

Generic name

Therapeutic regimen

SVR12

China

Company

Daklinza

Daclatasvir

DCV+ASV, 24 weeks

GT1b-24W:91%

April 24, 2017

BMS

Sunvepra

Asunaprevir

Olysio

Simeprevir

SMV, 24/48 weeks

GT1-24W/48w:91%

August 24, 2017

J & J

Viekirax

Ombitasvir / paritaprevir / ritonavir

OBV/PTV+DSV, 12 weeks

GT1b-12W:99.5%

September 21, 2017

AbbVie

Exviera

Dasabuvir

September 21, 2017

Sovaldi

Sofosbuvir

SOF+PR, 12 weeks

GT1-12W:94%

September 21, 2017

Gilead Sciences

SOF+RBV, 12/24 weeks

GT1-24W: 95% GT2-12W: 92% GT3-24W: 95%

Zepatier

Elbasvir

Grazoprevir

EBR/GRZ, 12 weeks

GT1-12W: 95%

April 28, 2018

Merck

Epclusa

Sofosbuvir

Velpatasvir

SOF+VEL, 12 weeks

GT1-12W: 98.4% GT2-12W: 100% GT3-12W: 95%

GT4-12W: 100% GT6-12W: 100%

May 30, 2018

Gilead Sciences

Ganovo

Danoprevir

Danoprevir + PR, 12 weeks

GT1-12W: 97% GT4-12W: 100%

June 13, 2018

Ascletis

Maviret

Glecaprevir

Pibrentasvir

GLE+PIB, 8 weeks

95%-99.7%#

Applied for marketing

AbbVie

Harvoni

Ledipasvir

Sofosbuvir

LDV+SOF, 12 weeks

96%-100%#

Applied for marketing

Gilead Sciences

KW-136

KW-136+SOF

N/A

Applied for marketing

Kawin Technology

PR: Peginterferon (Peg-IFN-α) in combination with ribavirin

Some data are from the prospectus of Ascletis

#U.S. clinical trial data
Gilead, MSD, BMS, and AbbVie have successively published the drug prices as shown in the following table:
| | | |
| --- | --- | --- |
| Enterprise | Drug | Price |
| Gilead | Sovaldi | RMB 58,980/12 weeks |
| BMS | Daklinza/Sunvepra | RMB 57,810/12 weeks |
| AbbVie | Viekirax/Exviera | RMB 58,968/12 weeks |
| MSD | Zepatier | RMB 59,880/12 weeks |
| Ascletis | Ganovo | RMB 39,996/12 weeks |
1. Prices of imported drugs are RMB 58,000-60,000/12 weeks
2. Price of the Chinese-produced drug is about RMB 40,000/12 weeks
In terms of the therapeutic regimen:
1. Imported drugs are based on DAA all-oral therapeutic regimen
2. The Chinese-produced drug has the therapeutic regimen of DAA in combination with PR
As the only all-oral, pan-genotypic, single tablet new hepatitis C drug in China, Epclusa has been included in the 2018 Edition National Essential Drugs List of China. Its selling price in China cannot be found at the moment. We look forward to that Epclusa will offer help to the era of hepatitis C cure in China, although inclusion in the said list is no longer the solid backing of sales and its inclusion in the medical insurance payment is not certain. For now, relevant knowledge and consultation rate of Chinese hepatitis C patients must be improved. DAAs are still a big burden to most hepatitis C patients, however, hepatitis C cure is of profound significance.
Read More:
Included in China's National Essential Drugs List, Can Epclusa Get a Second Wind in China? (1)
-----------------------------------------------------------------------
Editor's Note:
To apply for becoming a contributor of En-CPhI.cn,
welcome to send your CV and sample works to us,
Email: Julia.Zhang@ubmsinoexpo.com.