Bayer formally acquired the U.S. agricultural company: Monsanto for a price of USD63 billion on June 7, 2018 upon approval of the relevant U.S. and European regulators. To conclude this transaction, in addition to the expensive acquisition charge, Bayer stripped its original seed, herbicide, and other assets and sold them to BASF for a price of EUR7.6 billion, so as to meet the anti-monopoly investigation of the regulators. With this, the "Monsanto" that existed for 117 years has formally become a history. Names of products originally under Monsanto will stay unchanged after completion of the acquisition, however, their prefixes will be changed from "Monsanto" to "Bayer". Bayer therefore has become an international agribusiness giant, and its earnings per share are expected to increase from EUR1 to EUR6.8 in 2019 fiscal year.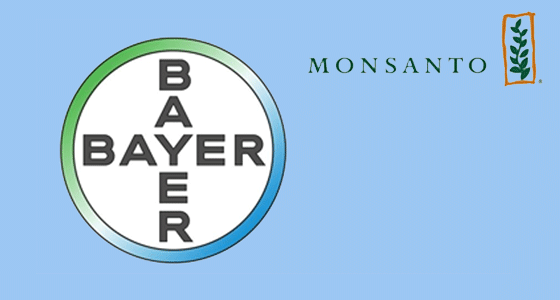 Less than half a year after this acquisition was completed, Bayer's business integration and strategic adjustments followed. The Supervisory Board of the company unanimously passed several proposals of the management in the meeting held at Bayer's Headquarters in Leverkusen, Germany on Nov. 28, including: 1. It plans to sell its Animal Health business, which may bring income of maximum EUR7.0 billion for Bayer; 2. It plans to sell its 60% shares in Currenta, a chemical industry park operator; 3. It plans to sell the consumer health brand: Coppertone and foot care brand: Dr. Scholl's; 4. It plans to reduce 12,000 jobs; 5. It plans to do other relevant business adjustments. We can see from the above decisions that Bayer's business scope will be largely shrunk. According to Bayer, it will mainly regard life science as its core business in the future, and revenue from the above transactions will be mainly used for investment in the relevant core industries.
As a well-known enterprise with a history of more than a hundred years, business under Bayer was originally divided into Pharmaceuticals, Animal Health, Crop Science, Material Science, and Consumer Health, etc. Bayer spun off its Material Science in 2014, which operates independently by the name of "Covestro". Bayer has reduced its shares in Covestro to 14.2% by Jan. 2018, from which, we can see that Bayer has made its transformation plan very early. Monsanto was a leader in the crop seed industry, and the acquisition thereof will greatly strengthen Bayer's profitability in terms of crop science, and Monsanto's technology accumulation in terms of transgenic breeding will enable Bayer to gain great advantages in that field, however, Monsanto was a scandal-plagued enterprise, with ongoing lawsuits. Following the claim for a sky-high price of USD289 million by a U.S. gardener, the Vietnamese government has also officially sued Monsanto, requiring it to compensate for the 3 million Vietnamese victims with various diseases due to "Agent Orange". We don't know whether this acquisition of Bayer will be more like "chestnuts out of the fire": huge risks behind the benefits.
Bayer, to better cope with the changing market, also plans to adjust the organization structure of the Consumer Health business, which will involve reduction of 1,100 jobs; and its spinning off of the original Crop Science will result in reduction of 4,100 jobs; a further 5,500 to 6,000 jobs in the "Corporate Functions, supporting functions, Business Services and country platforms" will disappear; furthermore, although Bayer's most profitable Pharmaceuticals business contributed over 50% business income and 28% net profits in 2017, Bayer will reduce about 900 jobs of its Pharmaceuticals R&D department in this business adjustment, and transfer part of the business to CRO; around 350 positions in connection with the Factor VIII facility will also be cut, which might be associated with the 10.9% slump of Bayer's total sales of pharmaceutical products in the first 9 months of 2018. However, this layoff plan has been strongly boycotted by the employees, not long after it was disclosed. About 1,000 Bayer employees demonstrated in Wuppertal, a western city in Germany on Dec. 3, to protest the company's layoff plan because 350 biotech positions in Wuppertal will be reduced according to the plan. This layoff plan of Bayer will be tough as the layoff will mostly be conducted in German that is in the Europe where labor unions are strong.
Bayer will focus its main business on Pharmaceuticals and Crop Science, i.e., life science associated industries, after times of business adjustment. According to Bayer's CEO Baumann, the acquisition of Monsanto is the best choice for the company's value proposition, even this acquisition is controversial, even it is called the "combination of devil and angel". Certainly, whether this business transformation of Bayer with tenacious determination will succeed or not still needs to be tested by time. It's very rare for any innovative enterprise to reduce 900 jobs associated with pharmaceutical R&D and 350 biotech jobs, not to mention such a prestigious pharmaceutical giant like Bayer, however, Bayer is not the first multinational pharmaceutical giant that discloses reduction of R&D associated jobs. Famous pharmaceutical enterprises like Pfizer, Novartis, Sanofi, and Novo Nordisk have also successively announced their layoff plans. The traditional pharmaceutical R&D mode is experiencing huge changes as a result of artificial intelligence, CRO, and profession breakdown, etc. Then, what is the core for an innovative pharmaceutical company? It's a question to consider, as the Chinese pharmaceutical industry is undergoing high-speed growth, and their innovation abilities still have a big gap with the international leading level. Bayer's transformation towards "life science as the core business" and the layoff wave of the giants may give us some insight into the question.
References:
Bayer to strengthen core life science businesses while significantly enhancing productivity and profitability
https://media.bayer.com/baynews/baynews.nsf/id/Bayer-strengthen-science-businesses-while-significantly-enhancing-productivity-profitability?Open&parent=news-overview-category-search-en&ccm=001&presskit=1
2. Big Cuts at Bayer
https://blogs.sciencemag.org/pipeline/archives/2018/11/30/big-cuts-at-bayer
Register as Visitor to CPhI China 2019!
-----------------------------------------------------------------------
Editor's Note:
To apply for becoming a contributor of En-CPhI.cn,
welcome to send your CV and sample works to us,
Email: Julia.Zhang@ubmsinoexpo.com.