Proteostasis Therapeutics' stock dropped as much as 63 percent Monday after the company reported disappointing results regarding the effect of its cystic fibrosis (CF) triplet therapy on percent predicted forced expiratory volume in one second (ppFEV1) in Phase I clinical testing. According to the company, the "broad new dataset" includes data from 14-day studies of its therapy combining the CFTR modulators PTI-808, PTI-801 and PTI-428, as well as separate studies of PTI-801 over 14 days and PTI-428 over 28 days as add-on treatments to background therapy with Vertex Pharmaceuticals' Symdeko (tezacaftor/ivacaftor), in patients with CF who carry the F508del mutation.
"With no plateau in ppFEV1 improvement reached over 14 days in our triplet combination study, we look forward to studying what we believe are the optimal doses for our [third-generation CFTR corrector PTI-801] and [CFTR potentiator PTI-808] through longer duration trials in subjects who are not predisposed to rapid pulmonary decline," said CEO Meenu Chhabra. She added that "these studies are expected to complete by year-end 2019 with preliminary data readouts thereafter, in anticipation of our mid-2020 Phase III launch timeline."
Commenting on the news, SVP Leerink analyst Geoffrey Porges described the triple therapy data as "mediocre," saying the results "did not match the [effectiveness] of Vertex's CF medicines, and will not compete for our estimate $10-billion peak CF sales to Vertex." However, he noted that while Vertex shares may get a "modest boost today from the removal of the final long-shot competitor from expectations, we still believe the CF portfolio is fully valued in Vertex's current stock levels."
Proteostasis' triple combination study involved 31 patients who were randomised and treated in two dose cohorts. Both cohorts included the same dose of the CFTR amplifier PTI-428 and either a 200-mg dose of PTI-801 and a 300-mg dose of PTI-808, or a 600-mg dose of PTI-801 and a 150-mg dose of PTI-808. Specifically, PTI-808 or placebo was administered in a seven-day lead-in, which was followed by a 14-day triple combination treatment period and a subsequent seven-day washout.
In a per protocol analysis involving 27 of the subjects, Proteostasis said a statistically significant mean absolute increase in ppFEV1 at day 14 of 5 percentage points versus baseline was observed in the 600-mg PTI-801 cohort. The group also achieved a significant decrease in sweat chloride concentration at day 14 of -19 mM compared to baseline, and -24 mM compared to placebo, with individual improvements of up to 50 mM, the company said.
However, when adjusting for patients predisposed to rapid pulmonary decline, who Proteostasis said would be ineligible for other CFTR modulator combination studies, the 600-mg PTI-801 cohort saw a ppFEV1 improvement of 6 percentage points versus baseline, and 8 percentage points versus baseline compared to placebo, neither of which were statistically significant.
In regards to the two separate add-on studies, a total of 56 patients with CF who were on background Symdeko were randomised to either 400-mg of PTI-801 or placebo for 14 days, or to PTI-428, at doses of either 10 mg or 30 mg, or placebo for 28 days.
Proteostasis said patients treated with PTI-801 experienced an average sweat chloride improvement of -20 mM compared to baseline, with individual improvements approaching or exceeding -40 mM during the treatment period. However, the company reported that these patients did not see significant improvement in ppFEV1 at the end of 14 days. Meanwhile, patients at both doses of PTI-428 achieved the targeted increase of CFTR protein expression of approximately 50 percent through 28 days compared to baseline, but they also did not see significant improvement in ppFEV1 at the end of the treatment period.
RBC Capital Markets analyst Brian Abrahams suggested that Proteostasis' cystic fibrosis treatments could be more successful in long-term studies. "With some studies still incomplete, several differences in characteristics versus Vertex's studies, and a number of different doses across the studies, it is difficult to draw definitive conclusions," Abrahams said. "More likely, in our view, the components look like a viable option" to treat patients who do not respond to Vertex's drugs, or as building blocks for combinations using other companies' products. Still, he said "we continue to see limited competitive threats to future market share or pricing of Vertex's triple CF regimens."
Earlier this month, Vertex announced that a three-drug regimen combining the investigational next-generation corrector VX-445 with Kalydeco (ivacaftor) and tezacaftor met the primary endpoints of two Phase III studies in patients with CF. For related analysis, see ViewPoints: In too much of good thing, Vertex racks up another triplet.
Register as Visitor to CPhI China 2019!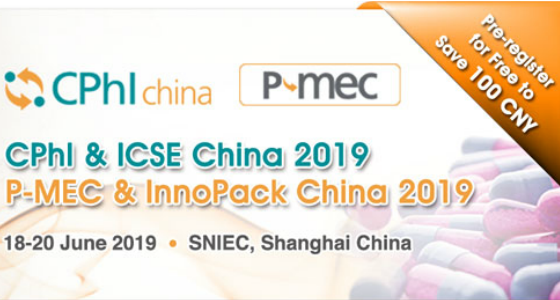 -----------------------------------------------------------------------
Editor's Note:
To apply for becoming a contributor of En-CPhI.cn,
welcome to send your CV and sample works to us,
Email: Julia.Zhang@ubmsinoexpo.com.