As one of the most commonly used and oldest drugs in the world, aspirin was originally synthesized by Bayer Company in 1897, and marketed two years later.
It was originally used as a painkiller and anti-inflammatory, and its antiplatelet aggregation effect was not discovered until the middle of the 20th century. FDA separately approved the use of aspirin for stroke and myocardial infarction in 1980 and 1985. Thereafter, aspirin has been discovered to have efficacy in cancer prevention and against infection, neurological disease, female infertility, and habitual abortion, etc., plus its cheap price, making aspirin almost a household "miracle drug" in China.
Status of "miracle drug" threated?
The 2019 Guideline on the Primary Prevention of Cardiovascular Disease has been released by the American College of Cardiology (ACC) and the American Heart Association (AHA) on Mar. 18. It's worth noting that the new edition makes a new recommendation on the use of the "miracle drug" aspirin in cardiovascular disease prevention, according to which, aspirin reduces risk of atherothrombosis but increases the risk of bleeding, particularly in the gastrointestinal (GI) tract. As a result, the recommendations for the primary prevention with aspirin are lowered to "may/might be considered" (Class IIb)
Then articles with titles like "Aspirin Falling off the Miracle Path" have been rapidly spread on social media, which makes the public stunned in the face of the sudden falling of the "star drug".
However, concurrently, research results of scholars from Taiwan, China help aspirin "fight back" and reconsolidate its king status. According to their follow-up with some Chinese people for 15 years, long-term use of aspirin could reduce the liver cancer risk by 29% of hepatitis B patients. This research has been published online on the internationally well-known journal JAMA Internal Medicine.
Hepatocellular carcinoma (HCC) is one of the most common malignant tumors. According to the relevant epidemiological statistics, liver cancer ranks second in mortality in China, and hepatitis B virus (HBV) is one of the most important risk factors of HCC. The current nucleoside/nucleotide analog (NA) treatment is associated with HCC risk reduction, however, it cannot eliminate such risk, and most HBV carriers have no indication of NA treatment, therefore, the medical world generally agrees that there is a need to explore new methods to effectively reduce HCC risks.
In this research, researchers analyzed medical record data of 204,507 patients for the period from Jan. 1, 1997 to Dec. 31, 2012 using the National Health Insurance Research Database of Taiwan, China, and determined 10,615 patients with single chronic hepatitis B as the subjects after excluding patients with other viral hepatitis or alcoholic liver disease, etc. Wherein, 2,123 patients who continuously received daily aspirin for 90 or more days (treated group) were randomly matched with 8,492 patients who had never received antiplatelet therapy (untreated group), and the follow-ups were conducted until the subjects were diagnosed with HCC or died or end of the research.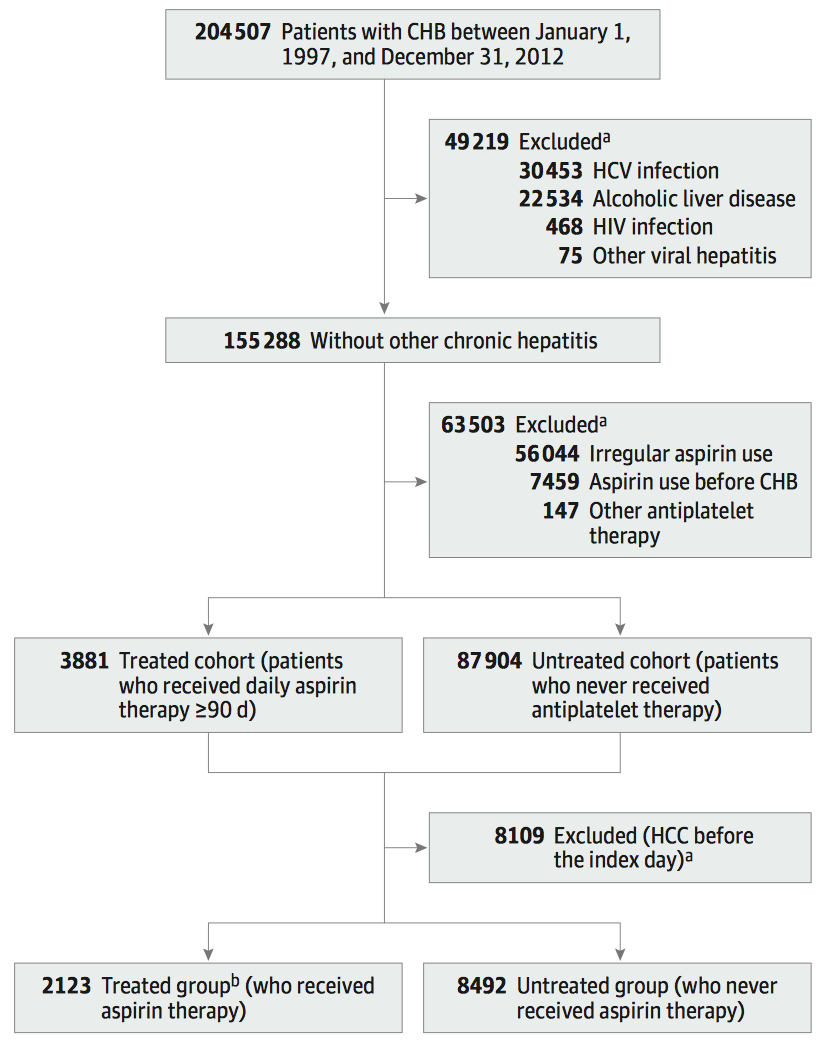 The results show the treated group VS untreated group:
The cumulative incidence of HCC in 5 years: 5.20% (95% CI: 4.11%-6.29%) VS 7.78% (95% CI: 7.15%-8.60%), showing that the cumulative incidence in the treated group was significantly lower than that in the untreated group, i.e., aspirin significantly reduced the HCC incidence of hepatitis B patients (the results as shown in the following figure).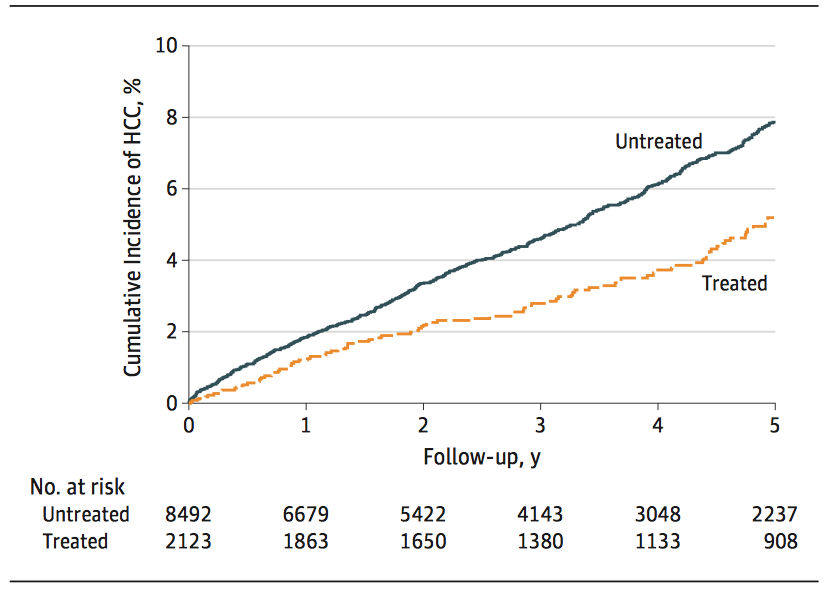 Cumulative Incidence of HCC in Patients of Treated Group Lower than that in Patients of Untreated Group
In the multivariable Cox regression analysis, aspirin therapy was independently associated with a reduced HCC risk (HR: 0.71, 95% CI: 0.58-0.86, P < 0.001). And sensitivity subgroup analyses also verified this association (all HRs <1.0), showing that aspirin therapy is still an independent factor affecting the hepatocarcinogenesis. Daily use of aspirin for 90 days or more days was associated with 29% HCC risk reduction.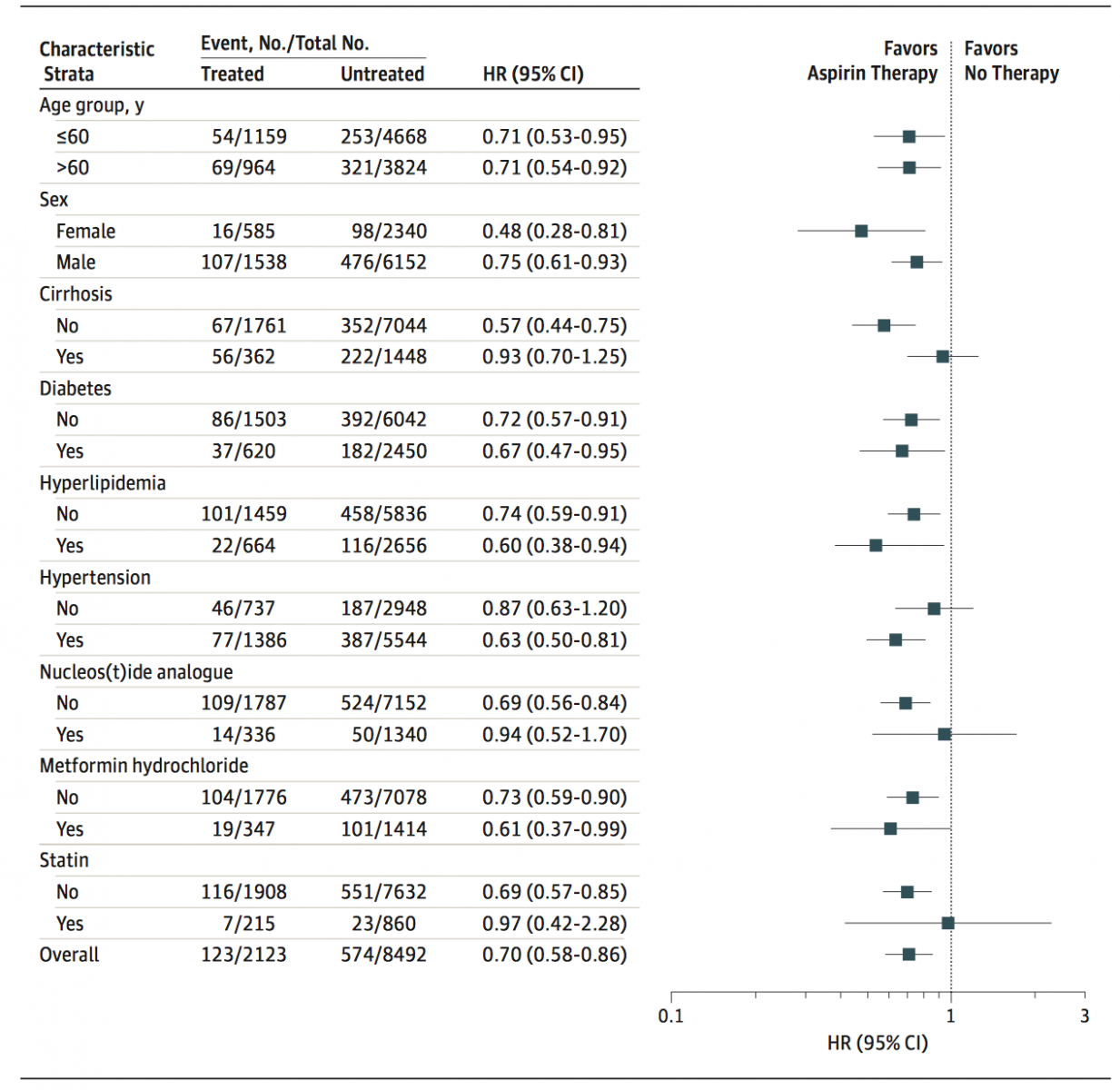 HCC Occurrence Risk in Treated Group VS Untreated Group
Aspirin, also known as acetylsalicylic acid (ASA), is a medication used to treat pain, fever, inflammation, or rheumatism, etc. Aspirin is extensively used in clinical trials, and its efficacy and drug combinations are being further explored. The above research results have further shored up the king status of aspirin in cancer prevention area.
There are still incomplete conclusions as to the dosage and frequency, etc. of aspirin in liver cancer prevention and treatment and most liver cancer patients have the risk of portal hypertension, which makes the use of aspirin clinically still a problem and a problem that we need to explore gradually. Overall, the research of aspirin in terms of liver cancer has provided a new idea to us. To effectively prevent hepatitis B associated liver cancers, results of the research may help hepatologists treat patients with chronic HBV, especially those hepatitis B patients who have not been instructed to use antiviral therapy.
1. Arnett D K, Blumenthal R S, Albert M A, et al. 2019 ACC/AHA Guideline on the Primary Prevention of Cardiovascular Disease[J]. Journal of the American College of Cardiology, 2019: 26029.DOI: 10.1016/j.jacc.2019.03.010;
2. Lee TY, Hsu YC, Tseng HC, et al. Association of Daily Aspirin Therapy With Risk of Hepatocellular Carcinoma in Patients With Chronic Hepatitis B. JAMA Intern Med. 2019 Mar 18.
Register as Visitor to CPhI China 2019!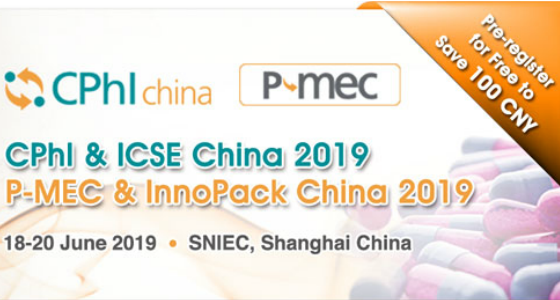 -----------------------------------------------------------------------
Editor's Note:
To apply for becoming a contributor of En-CPhI.cn,
welcome to send your CV and sample works to us,
Email: Julia.Zhang@ubmsinoexpo.com.