CPhI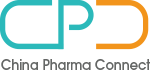 China Pharma Connect
Online Matchmaking system
Guidance of Usage
Introduction to China Pharma Connect
Thank you for participating in CPhI & P-MEC China 2019! The brand-new online matchmaking system-China Pharma Connect will facilitate precise targeting and efficient matchmaking with 3,200+ exhibitors and 50,000+ visitors and help to maximize the business value of your participation.
Features of China Pharma Connect
Efficiently manage onsite meetings with exhibitors/visitors
Send meeting requests in advance and establish contact with exhibitors/visitors before the exhibition
Different time periods and meeting places to choose from
An overall meeting timetable for easy management
Automatic reminders via emails before the show
One-on-one professional customer service to improve appointment efficiency
Precise Exhibitor/visitor targeting
Filter target exhibitors by product category, country, etc.
Filter target clients by interest area, business type, country, and job function, etc.
Target exhibitors/visitors fast by keyword search (company name, product name, booth number, etc.)
Multi-devices support
Devices include mobiles, tablets, laptops, and PCs etc.
Online access directly, no need to download
Step by step guide on how to use China Pharma Connect
Step 1 Login to the system
Click the link below to login to China Pharma Connect system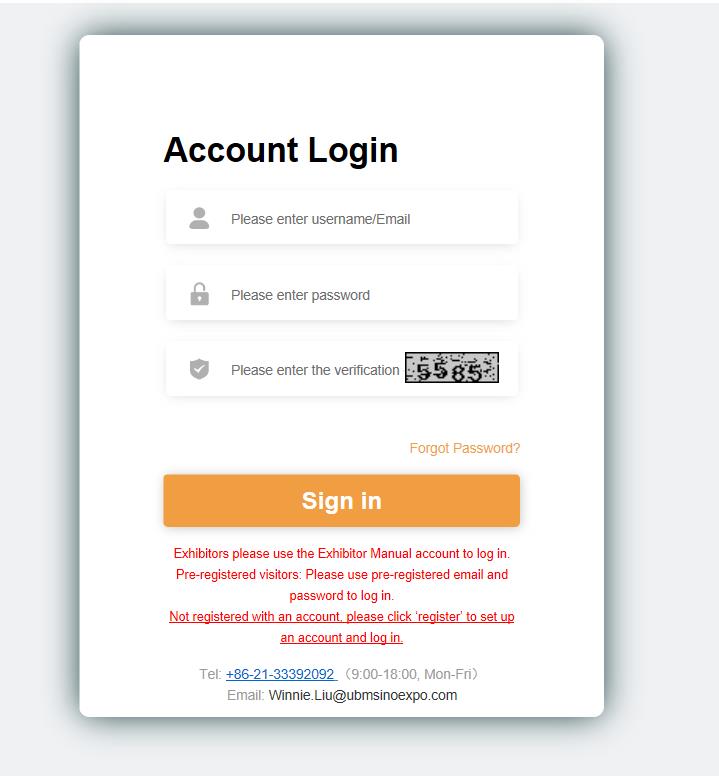 Exhibitor login: Exhibitors can log in by using the Online Exhibitor E-Manual username and password. Your account, password and login link to China Pharma Connect will be sent by email. Please save the email properly.
Visitor login: Visitors need to register in advance for CPhI & P-MEC China 2019 and will receive a matchmaking notification email within one week of the pre-registration. If you have not completed the pre-registration as a visitor yet, please click here to register for CPhI & P-MEC China 2019.
If you have any questions, please contact our dedicated customer service:
Telephone: +86-21-33392092, email: winnie.liu@ubmsinoexpo.com
Step 2 Complete Account Information
For exhibitors:
After logging in, exhibitors will be redirected to the account info interface, where they can:
Modify email address
Change login password
Add sub-accounts (unlimited number sub-accounts can be added. Each salesperson can independently make appointments with potential visitors and exhibitors.)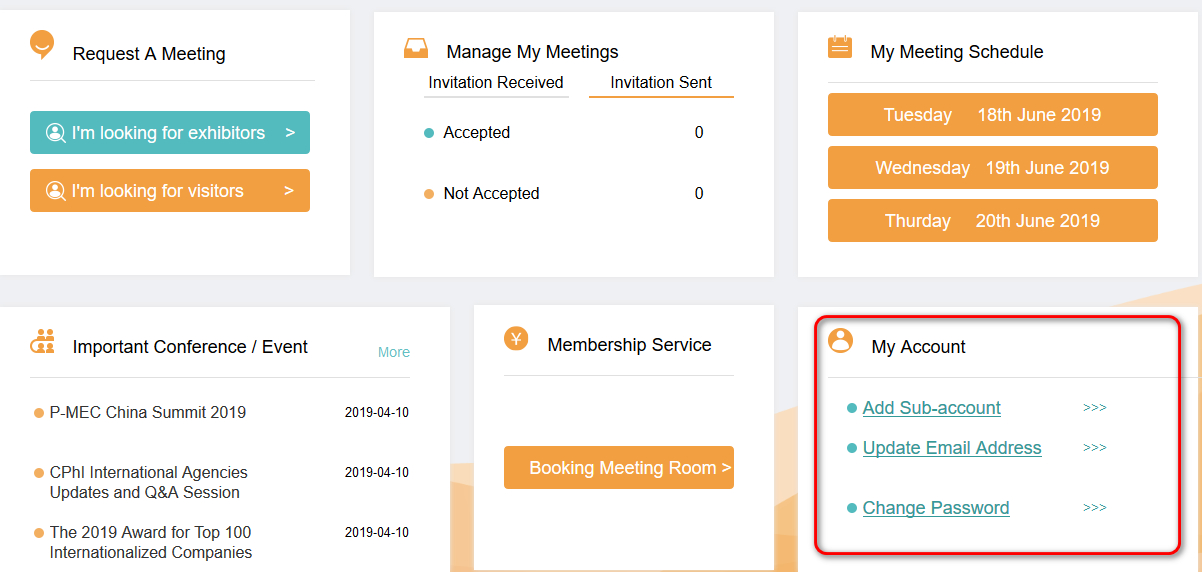 For visitors:
Visitors will receive login password after pre-registration for CPhI & P-MEC China 2019. Visitors are required to change their password when logging in for the first time. The password must be composed of more than 6 digits.

After the password is modified, you will be redirected to the [Update Company information] page and need to fill out the company information and personal information in both Chinese and English.
Tips: Since the China Pharma Connect matchmaking system is divided into two editions in both English and Chinese, exhibitors and visitors are recommended to fill in detailed Chinese and English information at the same time to maximize opportunities for matchmaking.
Step 3 Start Searching
Start searching for partners by clicking on the 'Request a Meeting' tag of the main navigation bar.

● I' m looking for exhibitors
Exhibitors can be identified by product category, country, and also keyword search (such as company name, product keyword, booth number, etc.) If you cannot find the companies of your interest, you may leave a message online and our customer service will reach out for help.

● I' m looking for visitors
The I'm looking for visitors page supports more detailed searches. Visitors can be searched based on their interest area, business type, country, job function, visitor keywords, etc.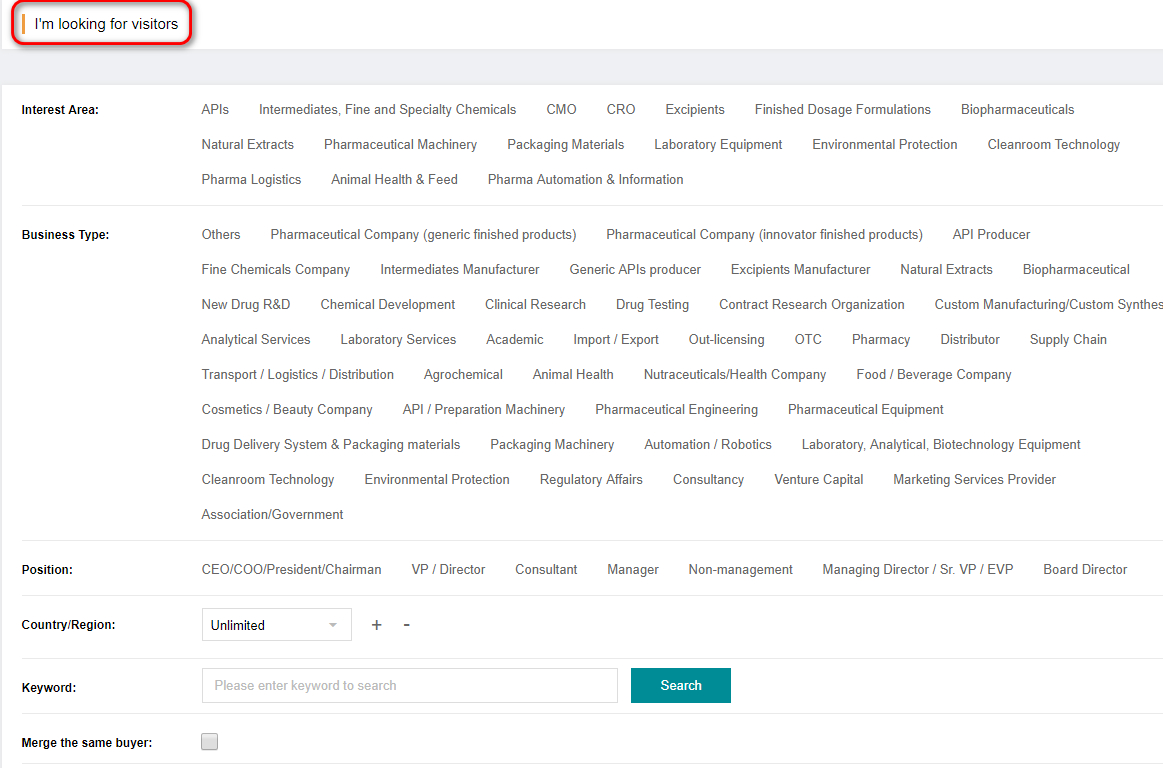 Useful Tip: Bookmark Your Favorites
When exhibitors or visitors of your interest are located, you can bookmark the listing by clicking on the Add as My Favorite button on the right part of the tab.

Then you will be able to manage the bookmarked leads on the My Favorites page, where exhibitors and visitors are listed in the two tabs according to their time added. You may start Request a Meeting, Manage My Meeting or Delete Information conveniently in this page.

Step 4 Request a Meeting
When target exhibitors or visitors are found in the listing, you can place the meeting appointment by clicking on the Request a Meeting button on the right part of each listing tab.

Alternatively, you can make appointments with the enterprises in My Favorites page.

Detailed appointment date, time slot, and location can be customized according to your arrangement.
For exhibitors, as many requests at each time slot can be set as is demanded. For visitors, only 1 request of appointment can be sent for each time slot.
The meeting location can be set at exhibitors' booths, Exhibition Onsite Meeting Rooms, or other locations. Onsite meeting rooms can be booked and paid by contacting customer service.
Step 5 Manage the Appointments
Meetings requests can be viewed and managed by clicking the Manage My Meetings tab in the main navigation bar. The Manage My Meetings page includes two sections, Requests received and Requests sent. You may check the statues of all appointments and take actions in the Options column.

Step 6 Manage My Meeting Schedule
If you have other arrangements within a certain period of time, you can close the time slots and set it as Unavailable by choosing the Block button in the Options column.
When the appointments sent by you or by the inviters are accepted, they will appear in the My Meeting Schedule page in chronological order, including time slot, company names, location and meeting status, etc.

If you have any questions, please contact our dedicated customer service:
Telephone: +86-21-33392092, email: winnie.liu@ubmsinoexpo.com