Are you seeking to grow your business at CPhI China 2019, with over 50,000 visitors and 3,200 exhibitors from all over the world? The CPhI China Pharma Connect (CPC) online match making system makes it easy to search for and identify potential partners and request meetings with quality pharma suppliers and professional buyers.
Hot features of CPC
Precise targeting of potential suppliers & buyers
Efficient management of meetings
Easy access via PCs, tablets and mobile phones
On-site meeting spaces with lower prices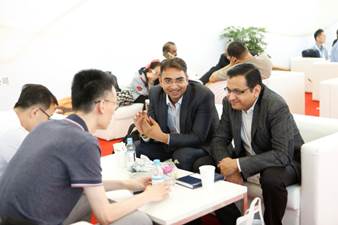 International exhibitors and visitors of CPhI & P-MEC China 2019
can send unlimited number of meeting requests totally free of charge!
With CPC, you can:

Search with multiple conditions: interest area, business nature, position, location, etc.
Request meetings with potential partners, accept or cancel the requests from other clients
Choose time and place for meetings, and easily manage your meeting schedule
Book on-site meeting spaces in advance, with discounted rates and added value services
Receive emails on new meeting requests and status updates
Access online to the system from anywhere at any time, via mobiles, tablets, laptops and PCs, no need to download

*In addition, as an exhibitor, you can also:

Login with CPhI China Exhibitor E-manual account, automatically synchronize your company profile
Use the sub-accounts to manage the meetings of your company together with your colleagues
Book on-site meeting spaces with exclusive discounts
Book by 31st May and get exclusive disounts of 50% off! Limited numbers only, first come, first served!

- Meeting Room: RMB 500/half hour, up to 2 bookings for each client

- Business Table: RMB 300/half hour, up to 2 bookings for each client

Upgraded service in 2019: free refreshments, unlimited WiFi, providing pleasant environment for your business meetings.
Find out More at CPhI & P-MEC China 2019
June 18-20, 2019 SNIEC, Shanghai, China
CPhI & P-MEC China 2019 is your gateway to successfully grow your business at the 2nd largest pharma market in the world. Whether you are looking for sourcing new business or getting the latest market insight, this is your One-stop Shop pharma platform in Asia.