Agile Therapeutics, Inc. (Nasdaq: AGRX), a women's healthcare company, today announced it has resubmitted to the U.S. Food and Drug Administration (FDA) the NDA for its lead product candidate, Twirla®, an investigational low-dose combined hormonal contraceptive patch (AG200-15). Agile resubmitted the NDA in response to a December 2017 Complete Response Letter (CRL) from the FDA, which identified deficiencies relating to (i) quality control adhesion test methods for the Twirla manufacturing process, (ii) observations identified during an inspection of a facility of our third-party manufacturer for the Twirla NDA that must be resolved, and (iii) questions on the in vivo adhesion properties of Twirla and their potential relationship to the SECURE clinical trial results. The resubmitted NDA includes the results from a comparative wear study that was conducted at the request of the FDA to address the FDA's questions on in vivo adhesion, additional information on the Company's manufacturing process, and other analyses responding to the 2017 CRL.
"We have resubmitted our NDA for Twirla as planned and look forward to working with the FDA during the review process," said Al Altomari, Chairman and Chief Executive Officer of Agile. "Our achievement of this milestone reflects our commitment to broadening the available contraceptive treatment options for today's women by offering an option to women seeking methods best suited to their needs and lifestyle. We expect the FDA to acknowledge our submission as a complete response in approximately thirty days, and at the same time provide us with a Prescription Drug User Fee Act (PDUFA) date that we anticipate will be based on a six-month review."
About Agile Therapeutics, Inc.
Agile Therapeutics is a forward-thinking women's healthcare company dedicated to fulfilling the unmet health needs of today's women. Our product candidates are designed to provide women with contraceptive options that offer freedom from taking a daily pill, without committing to a longer-acting method. Our lead product candidate, Twirla®, (ethinyl estradiol and levonorgestrel transdermal system), also known as AG200-15, is an investigational low-dose, non-daily prescription contraceptive. Twirla is based on our proprietary transdermal patch technology, called Skinfusion®, which is designed to allow drug delivery through the skin.
Register as Visitor to CPhI China 2019!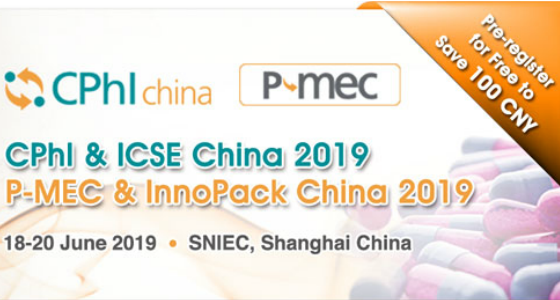 -----------------------------------------------------------------------
Editor's Note:
If you have any suggestion to the content,
please email: Julia.Zhang@ubmsinoexpo.com.