Takeda Pharmaceuticals, U.S.A., Inc. ("Takeda"), announced today that the U.S. Food and Drug Administration (FDA) approved extending the indication of Gattex (teduglutide) for injection to pediatric patients 1 year of age and older with Short Bowel Syndrome (SBS) who need additional nutrition or fluids from intravenous (IV) feeding (parenteral support).1
In children, SBS is a life-threatening, chronic, and rare malabsorption disorder resulting from surgical removal of a large portion of the intestine, which is typically due to congenital or acquired conditions of the newborn or trauma.2-4 Children with SBS are unable to absorb enough nutrients and fluids from what they eat and drink alone.2 A goal of SBS treatment is to restore the remaining intestine's ability to absorb nutrients and reduce long-term dependence on parenteral support (PS).2
"As a pediatric gastroenterologist, one of my main treatment goals for children with SBS is to reduce their dependency on parenteral support," said Beth Carter, MD, Medical Director of Intestinal Rehabilitation and Nutrition Support, Children's Hospital Los Angeles. "I'm pleased that patients have access to a medication that may help them reach that goal."
Gattex is the first and only medicine that mimics naturally occurring glucagon-like peptide-2 (GLP-2), which helps the remaining intestine absorb more nutrients.1 In a pharmacodynamic study in adults, Gattex was shown to improve the amount of fluids absorbed by the intestines.1
"Addressing high unmet needs of patients with complex and debilitating gastrointestinal (GI) conditions is a focus of Takeda's work," said Andrew Grimm, Global Clinical Development Lead, Takeda. "As the first U.S.-approved therapy in pediatric SBS patients dependent on PS that improves absorption, Gattex offers these patients new hope to reduce PS requirements and the potential for PS independence. This approval underscores Takeda's commitment to patients with rare and devastating GI conditions like SBS."
In a 24-week pediatric study, Gattex helped reduce the volume of daily PS required and time spent administering PS. Some children even achieved complete freedom from PS.1 Fifty- nine pediatric patients with SBS aged 1 year through 17 years chose whether to receive Gattex or standard of care (SOC). Patients who chose to receive Gattex treatment were subsequently randomized in a double-blind manner to 0.025 mg/kg/day (n=24) or 0.05 mg/kg/day (n=26), while 9 patients enrolled in the SOC arm. The recommended dosage of Gattex is 0.05 mg/kg/day. Randomization to the Gattex dose groups was stratified by age.1
At the end of the 24-week study, 69% of patients (18/26) who took Gattex 0.05 mg/kg each day reduced PS volume by 20% or more. Based on patient-diary data, patients who received Gattex 0.05 mg/kg/day experienced a 42% mean reduction in PS volume (mL/kg/day) from baseline (-23 mL/kg/day from baseline). At week 24, 38% of patients (10/26) were able to reduce PS infusion by at least 1 day per week.1 Patients reduced their PS infusion time by 3 hours per day on average compared to baseline.5 In addition, during this study 3 out of 26 (12%) children who received Gattex 0.05 mg/kg/day completely weaned off PS.1
Gattex has a demonstrated safety profile that is similar overall in pediatric and adult patients. The most common adverse reactions (≥10%) seen in adult patients treated with Gattex in clinical trials were abdominal pain, nausea, upper respiratory tract infection, abdominal distension, injection site reaction, vomiting, fluid overload, and hypersensitivity.1
About Pediatric Short Bowel Syndrome (SBS)
Malabsorption of fluids and nutrients can place children with SBS at risk for diarrhea, dehydration, electrolyte disturbances, and malnutrition.6 Parents and caregivers of children with SBS who are dependent on PS have reported in studies that they experience deterioration in their family life, social life, and work.4,7 PS reductions may represent a benefit to the lives of children with SBS, potentially giving them the freedom to do daily-life activities.8,9
About Gattex (teduglutide) for Injection
Gattex (teduglutide) is a recombinant analog of human glucagon-like peptide-2. In the U.S., Gattex is indicated for the treatment of adults and pediatric patients 1 year of age and older with Short Bowel Syndrome who are dependent on parenteral support. The recommended dosage of Gattex for both adults and pediatric patients is 0.05 mg/kg once daily by subcutaneous injection. Use of the Gattex 5 mg kit is not recommended in pediatric patients weighing less than 10 kg. The recommended dosage in adult and pediatric patients with moderate to severe renal impairment and end-stage renal disease (estimated glomerular filtration rate (eGFR) less than 60 mL/min/1.73 m2) is 0.025 mg/kg once daily.1
Takeda's Commitment to Gastroenterology
Gastrointestinal (GI) diseases can be complex, debilitating and life-changing. Recognizing this unmet need, Takeda and our collaboration partners have focused on improving the lives of patients through the delivery of innovative medicines and dedicated patient disease support programs for over 25 years. Takeda aspires to advance how patients manage their disease. Additionally, Takeda is leading in areas of gastroenterology associated with high unmet need, such as inflammatory bowel disease, acid-related diseases and motility disorders. Our GI Research & Development team is also exploring solutions in celiac disease and liver diseases, as well as scientific advancements through microbiome therapies.
About Takeda in the United States
Takeda has maintained a strong and growing commitment to the United States for more than 50 years. On January 8, 2019, Takeda completed its acquisition of Shire, PLC, becoming a global, values-based, R&D-driven biopharmaceutical leader. In the U.S., Takeda employs more than 18,000 employees across multiple business units, and as of August 2019, will be headquartered out of the greater Boston area.
Additionally, Takeda also has a research facility in San Diego, California, specialty products manufacturing facilities in Brooklyn Park, Minnesota and plasma fractionation manufacturing facilities in Covington, Georgia.
As one of the world's leading biopharmaceutical companies, Takeda is committed to bringing Better Health and a Brighter future to people worldwide. We aspire to bring our leadership in translating science into life-changing medicines to the next level, in our core focus areas; oncology, gastroenterology, neuroscience, rare diseases, plasma-derived therapies, and vaccines.
Register as Visitor to CPhI China 2019!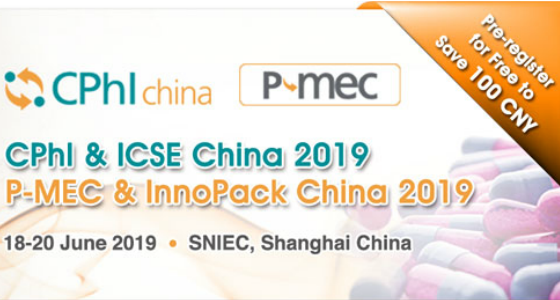 -----------------------------------------------------------------------
Editor's Note:
If you have any suggestion to the content,
please email: Julia.Zhang@ubmsinoexpo.com.