According to the information updated on the website of the National Medical Products Administration of China (NMPA) on May 30, the marketing approval progress of the Camrelizumab for Injection independently developed by Hengrui Medicine was updated to "Approval completed-to be issued certificate", which means that the camrelizumab of Hengrui will finally be marketed after 15 months!
As the third Chinese-produced anti-PD-1 monoclonal antibody approved for marketing in China, the marketing of camrelizumab means the ending of the marketing speed competition of the anti-PD-1 monoclonal antibody drugs in China and beginning of the next stage of competition for layouts centering on multiple new indications.
5 anti-PD-1 monoclonal antibody products approved for marketing in China
There have been 5 anti-PD-1 monoclonal antibody drugs marketed in China so far, including 2 imported products and 3 Chinese-produced products.
On May 30 when the inside information that Hengrui obtained the approval for its anti-PD-1 monoclonal antibody camrelizumab was flooding the screen, BeiGene announced its supplemental new drug application (sNDA) of the anti-PD-1 tislelizumab for urothelial carcinoma (UC) had been accepted by the NMPA. The first marketing application of tislelizumab in China for the treatment of relapsed/refractory classical Hodgkin lymphoma was accepted by CDE in Sep. 2018, which received the priority review in November of the same year and is currently "under review and approval". It is expected to become the 6th drug in its class approved in China.
Anti-PD-1 Monoclonal Antibodies Approved/to be Approved in the Chinese Market
Anti-PD-1 Monoclonal Antibodies Approved/to be Approved in the Chinese Market

Drug name

Applying enterprise

Approval time/progress

Imported/Chinese-produced

Nivolumab

BMS

June 2018

Imported

Pembrolizumab

MSD

July 2018

Imported

Toripalimab

Junshi Biosciences

Dec. 2018

Chinese-produced

Sintilimab

Innovent

Dec. 2018

Chinese-produced

Camrelizumab

Jiangsu Hengrui

May 2019

Chinese-produced

Tislelizumab

BeiGene

Under review and approval

Chinese-produced
"All roads lead to Rome": layouts of multiple clinical indications
As broad-spectrum anticancer drugs marketed early, anti-PD-1 monoclonal antibodies represented by BMS' nivolumab (Opdivo) and MSD's pembrolizumab (Keytruda) have been approved many indications worldwide: Opdivo has been approved 11 indications and Keytruda has been approved 12 indications so far.
Layouts of Clinical Trials in China

Drug name

Toripalimab

Sintilimab

Camrelizumab

Tislelizumab

Phase Ⅰ

1

8

4

3

Phase Ⅱ

6

2

14

6

Phase Ⅲ

5

7

9

11

Approved

1

1

1

0

Total

13

17

28

23
The approval of numerous indications has expanded the patient groups of those marketed drugs, greatly strengthened the market competitiveness thereof, and increased the confidence and expectations for future performance growth. Similar to the path of nivolumab and pembrolizumab, the above 4 Chinese-produced anti-PD-1 products have been actively laid out multiple indications, involving many clinical trials in different phases.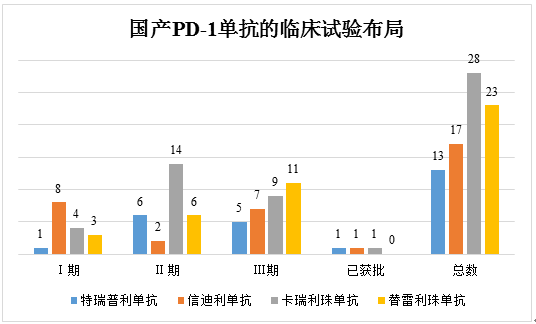 | | |
| --- | --- |
| 国产PD-1单抗的临床试验布局 | Layouts of Clinical Trials of Chinese-produced Anti-PD-1 Monoclonal Antibodies |
| I期 | Phase I |
| II期 | Phase II |
| III期 | Phase III |
| 已获批 | Approved |
| 总数 | Total |
| 特瑞普利单抗 | Toripalimab |
| 信迪利单抗 | Sintilimab |
| 卡瑞丽珠单抗 | Camrelizumab |
| 替雷丽珠单抗 | Tislelizumab |
From the perspective of the current layout of clinical trials, the competition of the 4 Chinese-produced anti-PD-1 products is developing towards different directions.
Hengrui Medicine mainly focuses on the expansion in the Chinese market, with the number of clinical trials and number of indications registered for camrelizumab being the largest among Chinese-produced anti-PD-1 drugs, which leads overall in big indications and drug combinations and has increasingly comprehensive coverage of indications. The hemangioma side effect of camrelizumab caused widespread concern in the industry, however, the side effect has been assessed as mild and reversible, and optimistically, this problem will not produce a big impact on the monotherapy of camrelizumab. And Hengrui Medicine has been actively laying out the therapeutic regimen of camrelizumab in combination with apatinib in order to bring better treatment experiences by reducing toxicity and enhancing efficacy, which shows great prospects.
The drug combination regimens of Innovent's sintilimab are based on chemotherapy drugs and use less targeted drugs. Innovent focuses on laying out clinical trials of sintilimab for lung cancer indications, with clinical trials using it as first-line therapy and second-line therapy for non-small cell lung cancer (NSCLC) both in Phase III and a clinical trial using it as second-line therapy for EGFR-positive NSCLC in combination with bevacizumab/chemotherapy regimen in Phase III. In terms of the international market expansion, the cooperation with companies including Eli Lilly, Adimab, and Incyte, etc. has laid a good foundation for the road of internationalization of Innovent. Sintilimab leads in the international development progress and has now received FDA's clinical approval to skip Phase I clinical study and go directly into Phase II/III clinical study.
By contrast, the development of Junshi Biosciences' toripalimab goes on a niche path where Junshi Biosciences has prioritized the development for the niche melanoma and nasopharyngeal cancer indications and also laid out indications not involved by Hengrui and Innovent such as triple negative breast cancer and neuroendocrine tumor. Such a differentiated development pattern has avoided the product's fierce competition with similar products in China and is expected to have the first-mover advantage in the future upon the early layout in the niche market.
As to tislelizumab not approved for marketing, BeiGene has first laid out the drug resistance and international multicenter clinical trial for the product. The current international multicenter clinical trial of tislelizumab involves first-line therapy for NSCLC and liver cancer, first-line/second-line therapy for esophagus cancer, first-line therapy for gastric cancer, and second-line/third-line therapy for liver cancer, etc. and leads in the international clinical trial progress. And the company has taken the lead in laying out the drug resistance regimen and carried out the clinical trial for treating liver cancer and gastric cancer in combination with sitravatinib.
-----------------------------------------------------------------------
Editor's Note:
If you have any suggestion to the content,
please email: Julia.Zhang@ubmsinoexpo.com