| | | | | |
| --- | --- | --- | --- | --- |
| Pharmaceutical product name | Trade name | Company | Target | FDA/NMPA approval time |
| Ustekinumab | Stelara | J & J | IL-12/23 | 2009/2019 |
| Tildrakizumab | Ilumya | MSD, Sun Pharmaceutical | IL-23 | 2018 |
| Certolizumab | Cimzia | UCB | TNF-ɑ | 2008 |
| Guselkumab | Tremfya | J & J | IL-23 | 2017 |
| Secukinumab | Cosentyx | Novartis | IL-17A | 2015/2019 |
| Ixekizumab | Taltz | Eli Lilly | IL-17A | 2017 |
| Brodalumab | Siliq | Valeant | IL-17R | 2017 |
| Apremilast | Otezla | Celgene | PDE-4 | 2014 |
(Sorted out based on public data. Any supplementation will be much appreciated.)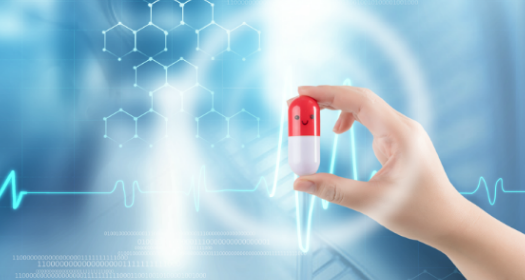 What needs to be made clear is that apremilast is a small molecule inhibitor of phosphodiesterase-4 (PDE-4) instead of a biological agent. It was approved by the FDA in 2014 to treat adult patients with moderate to severe plaque psoriasis who are candidates for phototherapy or systemic therapy. I put it in the above table because apremilast can significantly inhibit epidermal cell proliferation, reduce epidermal thickness, reduce expressions of human leukocyte antigen-DR and intercellular adhesion molecule on psoriatic lesions, to thus relieve psoriasis symptoms. Its annual sales have exceeded USD1 billion.
Marketing of benvitimod, a Chinese-produced Class 1 innovative drug
Drugs other than biological agents are also "shining".
The Class 1 innovative drug: Benvitimod Cream has been approved for marketing by NMPA through priority review and approval procedure on May 31, 2019, which is used for local treatment of mild to moderate stable psoriasis vulgaris in adults. Benvitimod is a tyrosine kinase inhibitor which functions by inhibiting T cell tyrosine protein kinase to interfere with/block cytokine and inflammatory mediator release, T cell migration, and skin cell activation. The marketing of Benvitimod Cream will provide a new drug therapy for adults with mild to moderate stable psoriasis vulgaris.
A highly profitable field
Many drugs have been approved to treat psoriasis, however, psoriasis cannot be cured but can only be improved symptoms by existing drugs, therefore, the psoriasis drug market stands for a highly profitable field. There are around 8 million psoriasis patients in China, and this figure increases year by year. According to IMS forecast, the global psoriasis drug market will reach USD9.02 billion in 2019; and according to a research report of Southwest Securities, China's psoriasis drug market has exceeded RMB3 billion.
Global market scales of main psoriasis drugs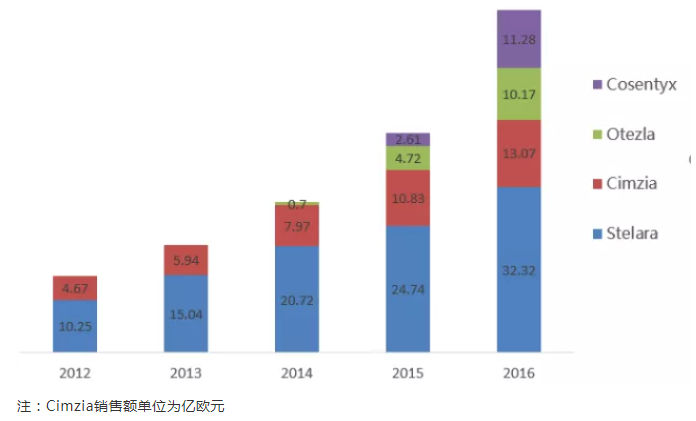 Note: Unit of Cimzia sales in EUR100 million
It's worth mentioning that Hengrui also has a psoriasis drug: SHR-1314, which is a recombinant human monoclonal antibody targeting IL-17A.
It is now in Phase I clinical trial.
Read More:
Competition in the RMB3 Billion Psoriasis Drug Market Turning White-hot!
-----------------------------------------------------------------------
Editor's Note:
If you have any suggestion to the content,
please email: Julia.Zhang@ubmsinoexpo.com