Many people consider that the status of chemotherapy in cancer treatment has fallen considerably and some even consider chemotherapy to be out-of-date in recent years with the occurrence of targeted drugs and immunotherapy. The bias against chemotherapy has caused many tumor patients who need chemotherapy originally to reject chemotherapy. Is chemotherapy useless? Has oncology entered the era requiring no chemotherapy?
A study published in the authoritative journal: Lancet Oncology brings a shocking viewpoint: despite many emerging treatment methods to appear in the future, global chemotherapy demands will be doubled in 2040, and China will be the country with the highest demands.
Chemotherapy is Out-of-date?
Background
The incidence of cancer (excluding non-melanomatous skin cancers) is projected to rise from 17 million to 26 million between 2018 and 2040. A large proportion of these patients would be likely to derive benefit from chemotherapy, but no studies so far have quantified current and projected global chemotherapy demands. The study aimed to estimate changes in global and regional demands for first-course chemotherapy and the cancer physician workforce between 2018 and 2040 if all patients were treated according to guidelines.
The study was conducted by researchers from the University of New South Wales, Ingham Institute for Applied Medical Research, Kinghorn Cancer Centre, Liverpool Cancer Therapy Centre, and International Agency for Research on Cancer, Lyon. They used the best-practice guidelines, patient characteristics, and cancer stage data from the U.S. and Australia to calculate the proportions of newly diagnosed cancer patients benefiting from chemotherapy, and then applied those proportions to estimate the incidence of cancer in global adults and children between 2018 and 2040 to project the chemotherapy demands of global cancer patients.
Findings
By 2040, the number of new cancer cases is projected to increase to 26 million in the world, and 15 million are estimated to need chemotherapy, with the absolute increase of 5.20 million (by 53%).
The most common indications for chemotherapy worldwide in 2040 will be lung cancer (accounting for 16.4% of the total cases, 2,455,137/14,984,560), breast cancer (12.7%, 1,898,740), and colorectal cancer (11.1%, 1,678,153). The absolute increases of cases of those three cancers requiring chemotherapy are projected to be the largest between 2018 and 2040. The relative increases of cases of gallbladder cancer and bladder cancer requiring chemotherapy are projected to be the largest between 2018 and 2040, separately being 77% and 66% (as shown in the following Table 1).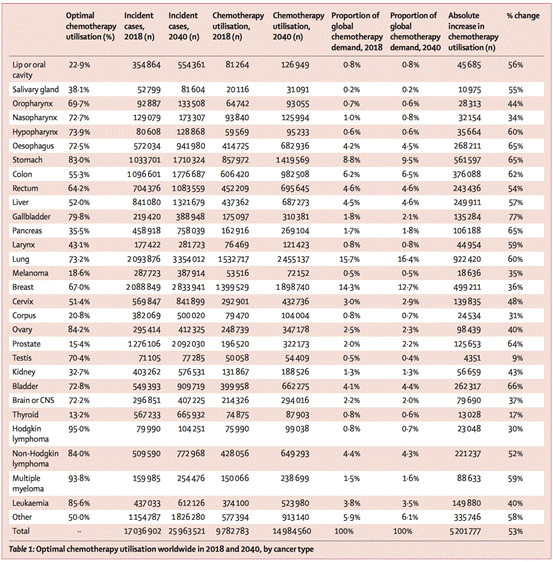 Table 1 Optimal Chemotherapy Utilization in 2018 and 2040 by Cancer Type
The study estimated that the optimal chemotherapy utilization in seven countries would be lower than 50%, while that in 36 countries would be 60% or higher (as shown in the following Fig. 1).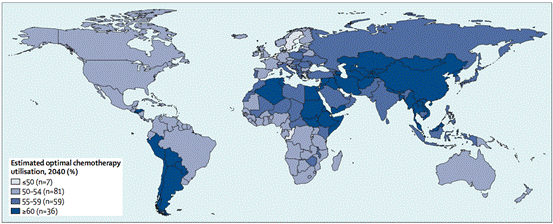 Fig. 1 Proportions of Patients Receiving First-course Chemotherapy in Countries in 2040
From the perspective of regions, among the 15 million people requiring chemotherapy in 2040, 35% will live in East Asia, 11.5% in Central and South Asia, and 9.5% in the north of the U.S. During 2018-2040, the largest increases of chemotherapy demands are projected to occur in East Africa (115% growth), Central Africa (114% growth), West Africa (100% growth), and West Asia (99% growth). It's worth noting that the highest chemotherapy demands will be from China in 2040, accounting for more than 25% of global chemotherapy demands (as shown in the following Fig. 2).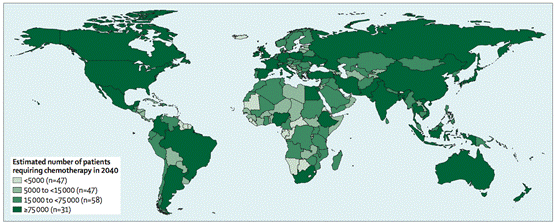 Fig. 2 New Patients Requiring Chemotherapy in Countries in 2040
Physician workforce demands
Calculated according to one physician treating 150 new patients requiring chemotherapy, 65,219 cancer physicians were projected to be needed in the world in 2018, and 99,897 cancer physicians are projected to be needed in 2040, with the range between 49,949~149,846, specifically subject to the workload. About 31.4% of cancer physicians are projected to be working in high-income countries and 67.2% in middle or low-income countries by 2040. China's demands for cancer physicians will be the largest in 2040, followed by the U.S. and India (as shown in the following Table 2).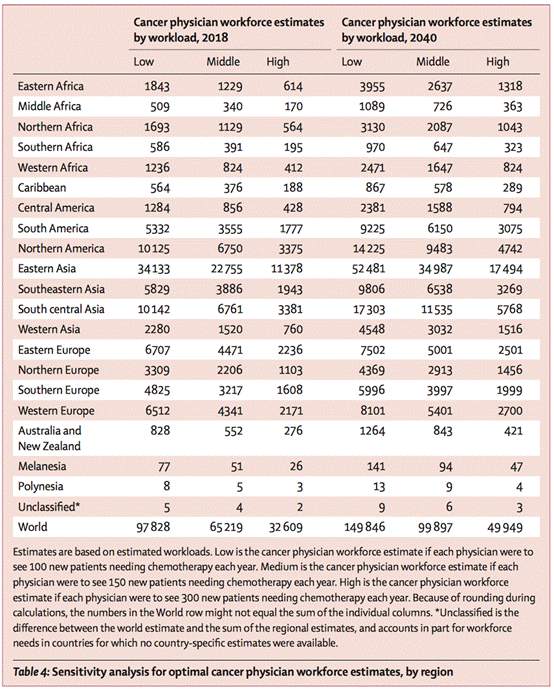 Table 2 Number of Corresponding Cancer Physicians Demanded in Different Regions
The rising global cancer burden is undoubtedly one of the major health crises of today. According to Dr. Brooke E Wilson of University of New South Wales, the first author of the study, "Countries and institutions should use our data to estimate their future cancer physician workforce requirements and chemotherapy needs and plan national, regional, and global strategies to ensure all those who need it will have access to chemotherapy treatment."
The study is of a milestone meaning to the adjustment of the public health strategy for global cancer prevention and control. Melina Arnold from the French International Agency for Research on Cancer commented, "All in all, this study will help to further guide policy makers and stakeholders in priority settings involved in setting up health infrastructure and strengthening and educating the future workforce. To leverage the full potential of this type of global prediction study, it would be useful to estimate costs of and strategies for scaling up health services for optimal patient management, not only for future chemotherapy, but also throughout the full continuum of cancer care."
References:
Brooke E Wilson, Susannah Jacob, Mei Ling Yap, et al. Estimates of global chemotherapy demands and corresponding physician workforce requirements for 2018 and 2040: a population-based study.Lancet Oncol.May 08, 2019;
Melina Arnold,Isabelle Soerjomataram.Global chemotherapy demands: a prelude to equal access.Lancet Oncol.May 08, 2019;
3.ISABELLE DUBACH.Global study predicts more than 50% rise in chemotherapy demand by 2040.UNSW Sydney Newsroom.09 MAY 2019.
-----------------------------------------------------------------------
Editor's Note:
To become a freelance writer of En-CPhI.CN,
welcome to send your CV and sample works to us,
Email: Julia.Zhang@ubmsinoexpo.com.