The National Medical Products Administration of China (NMPA) released on its website on Nov. 2, 2019 some big news that shocks the industry.
The NMPA has conditionally approved the marketing registration application of Sodium Oligomannurarate Capsules (trade name: GV-971) to treat moderate to mild Alzheimer's disease (AD) and improve patients' cognitive function. The NMPA requires the applicant to continue to study the pharmacological mechanism and the long-term safety and effectiveness, improve the oligosaccharide analysis method and submit relevant trial data on time after the marketing.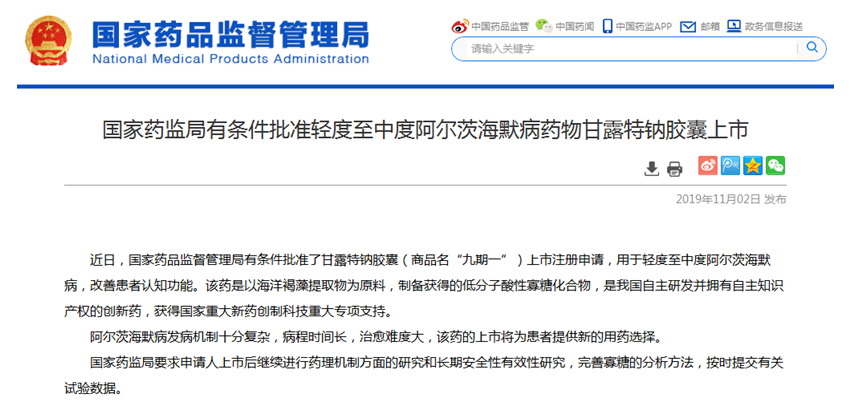 (Source: NMPA)
And the pharmaceutical product's registration approval has been published on the WeChat official account of Shanghai Institute of Materia Medica, Chinese Academy of Sciences.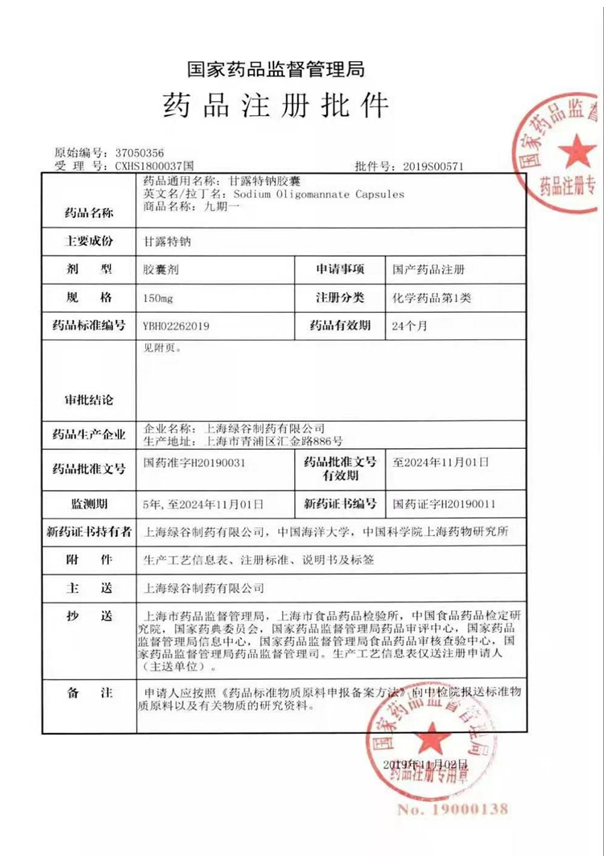 This news has shocked the industry after it was released. Someone praises it as a drug that can win a Nobel Prize, while, someone considers that the efficacy still needs to be proved by time.
What is sodium oligomannurarate exactly?
The article "Still 10 Chinese-produced Class 1 New Drugs Expected to be Marketed in 2019 that has Only 2 Months Left" I just wrote several days ago mentioned sodium oligomannurarate.
Sodium oligomannurarate (code: GV-971) is a low molecular acidic oligosaccharide compound jointly developed by the Chinese Academy of Sciences and Green Valley Pharmaceutical and prepared with materials extracted from brown algae, which is an innovative drug independently developed in China with independent intellectual property. The drug development has been supported as a China's National Major Scientific and Technological Special Project for Significant New Drugs Development. Unlike traditional targeted antibody drugs, GV-971 can capture beta amyloid (Aβ) in multiple points, segments and states, inhibit the formation of Aβ fibrils and depolymerize the formed fibrils into nontoxic monomers. This successful marketing makes sodium oligomannurarate the world's first multi-targeting carbohydrate-based innovative drug against AD.
According to the results of the Phase III clinical study (NCT02293915), sodium oligomannurarate could significantly improve the cognitive impairment of AD patients; compared to the placebo group, the average improvement value of the ADAS-cog12 scale was 2.54, with statistical significance (p<0.0001); the drug's efficacy in the subgroup that was severe in the severity of illness (MMSE score of 11-14) was especially significant: compared to the placebo group, the average improvement value of the ADAS-cog12 scale was 4.55; sodium oligomannurarate had a significant improvement tendency for the secondary endpoint CIBIC-plus (p=0.059); however, nothing of statistical significance was observed for ADCS-ADL scale and NPI Questionnaire; compared to the placebo group, sodium oligomannurarate had no significant statistical differences in terms of adverse event or serious adverse event rate, and it had good safety and strong tolerance.
Sodium oligomannurarate fills in gaps in the marketing of new drugs for AD for 17 years
AD has the main symptoms of cognitive impairment, behavior disorder, and mental disorder and is the third-biggest cause of disability and death in the elderly following cardiovascular and cerebrovascular diseases and malignant tumors. There are at least 50 million AD patients in the world at present, and this figure is expected to reach about 150 million by 2050. The relevant treatment and care expenses reached USD 1 trillion in the world in 2018, bringing heavy burdens to patients' families and society. There are about 10 million AD patients in China, making it the country with the largest number of AD patients. The number of Chinese AD patients is expected to reach 40 million by 2050 with the acceleration of population aging.
There have been only 5 drugs for clinical treatment in the world over more than 100 years since AD was discovered, which do not provide apparent clinical benefits. In the past 20 years, global pharmaceutical companies successively invested hundreds of billions of USD in developing new AD drugs, however, the more than 320 drugs that entered clinical studies failed.
Biogen and its partner Eisai have announced recently that they plan to file the BLA of aducanumab (a drug for early-stage AD) to the FDA at the beginning of 2020, which has aroused high attention. And the marketing of sodium oligomannurarate fills in gaps in the marketing of new drugs for AD for 17 years
AD has a very complex pathogenesis and long course, and it is very difficult to cure the disease. The marketing of the drug will provide a new choice of drug for patients.
-----------------------------------------------------------------------
Editor's Note:
To become a freelance writer of En-CPhI.CN,
welcome to send your CV and sample works to us,
Email: Julia.Zhang@ubmsinoexpo.com.