As a significant part of the world pharmaceutical industry, the Chinese pharmaceutical industry has undoubtedly been deeply involved in each link of the cooperation and competition of the world pharmaceutical industry. Excellent Chinese pharmaceutical enterprises do not only actively lay out the Chinese pharmaceutical market but also participate in the international pharmaceutical market competition and expansion. Chinese pharmaceutical enterprises were at low positions of the international competition at the beginning, and it was mainly API enterprises that participated in the international competition. Later, more Chinese FPP enterprises have started to actively develop the international market as Chinese pharmaceutical enterprises become stronger. Among the international development programs, Chinese pharmaceutical enterprises shall pay sufficient attention to a pharmaceutical enterprise quality system certification besides the U.S. FDA certification and EU certification, which is WHO PQ.
As an action plan of the United Nations initiated in 2001, the World Health Organization (WHO) Pre-qualification is formerly known as the Prequalification Team: medicines (PQTm) and is now renamed to Prequalification of Medicines Programme (WHO Pre-qualification, PQ for short). It is used to expand the access to the selected priority medicines and aims to make sure of the quality, efficacy and safety of pharmaceutical products purchased by international funds (such as the Global Fund GFTAM, and UNITAID) and NGOs, etc. and serve patients in developing countries.
In 2001, at the beginning, WHO PQ mainly targeted HIV/AIDS drugs, malaria drugs, and tuberculosis drugs; in 2006, the scope was expanded to increase reproductive health drugs; in 2007, 2008, and after 2011, product varieties such as drugs for influenza, child nutrition, acute diarrhea, hepatitis and other neglected tropical diseases, and biosimilars were successively increased, with the accepted product scope and varieties expanded gradually. The list of FPPs passing WHO PQ includes 554 drugs by Nov. 2019, as shown in Table 1 by therapeutic category:
Table 1 Categories of Pharmaceutical Products Passing WHO PQ (FPPs)

Besides FPPs, WHO PQ scope also includes APIs and independent quality inspection laboratories. And not all pharmaceutical products can be applied for WHO PQ. The programme is only specific to the products included in the Express of Interest (EOI) published by the WHO (mainly including those from the WHO Essential Medicines List (EML) or lists recommended by WHO guidelines on diseases). Pharmaceutical product specifications and dosage forms are stipulated in the EOI contents, and only the pharmaceutical products that meet related requirements will be accepted by the WHO for certification.
Basic process of WHO PQ
See Fig. 1 for the basic process of PQ.
FPP PQ is divided into full assessment and abbreviated assessment. Full assessment is specific to generic drugs and requires submission of safety, effectiveness and quality data and information and also onsite inspections. Abbreviated assessment is specific to generic drugs or innovative drugs approved by SRAs (Stringent Regulatory Authorities, namely, drug regulators in developed countries recognized by the WHO) according to stringent standards.
API PQ has three ways, namely, full assessment that applies to APIs of which the API Master Files (APIMFs) have not previously been assessed by the WHO, abbreviated assessment that applies to APIs of which the APIMFs used to support the FPP PQ have been previously assessed by the WHO, and abbreviated assessment that applies to APIs of which the APIMFs have been previously approved by SRAs using stringent standards.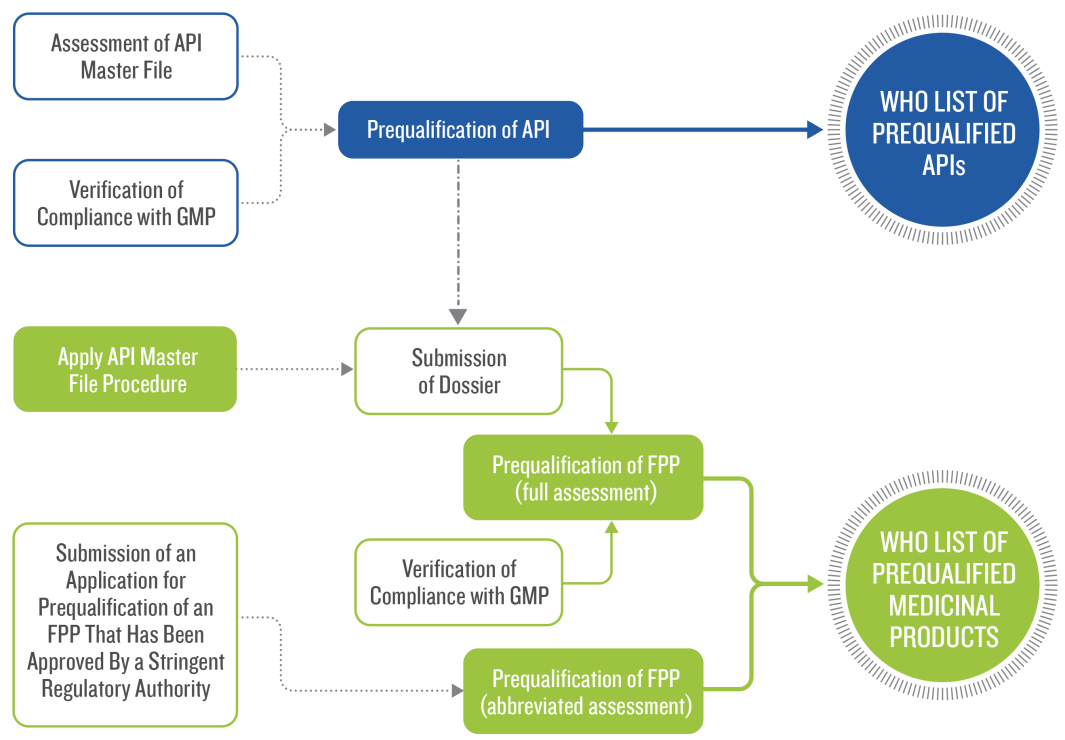 Fig. 1 WHO PQ Process Diagram (Source: WHO Website)
WHO PQ has started charging since Sep. 1, 2013. New charging standards have been implemented since Jan. 1, 2017, with some products eligible for application for annual fee exemption.
Specifically as follows:
Many Chinese pharmaceutical enterprises are laying out WHO PQ because they can enter the international supplier list of the WHO system after passing WHO PQ. Furthermore, the positions of enterprises in the Chinese market can also be improved because the WHO PQ system is also recognized by many international NGOs. The number of Chinese FPP enterprises and API enterprises that have passed WHO PQ so far is separately 12 and 24 (see Table 2). The sales revenue of the pre-qualified varieties of Gulin Pharma, a strong performer in passing WHO PQ, exceeded RMB300 million in 2018.
Table 2 List of Chinese Enterprises that Have Passed WHO PQ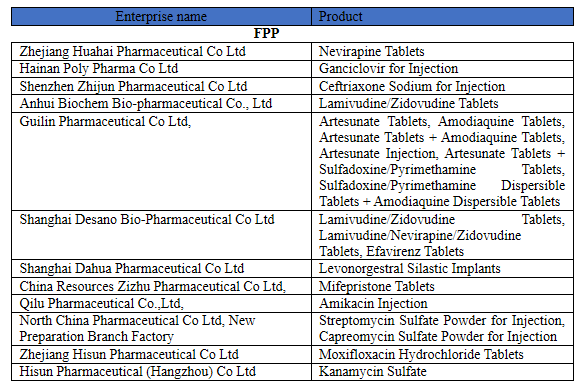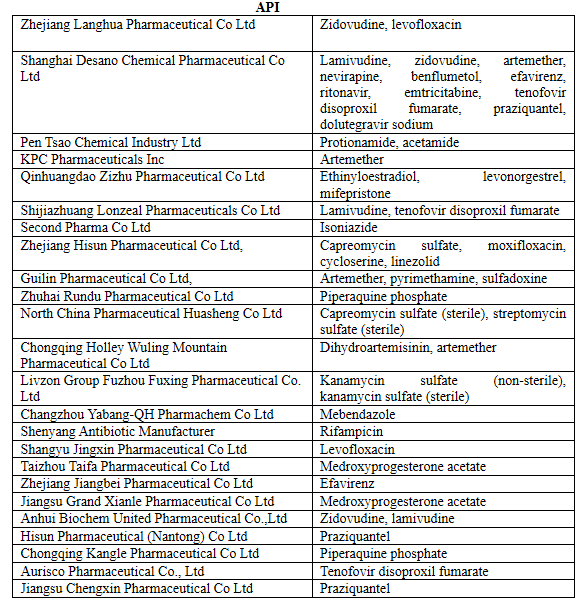 We can see from the above list that many FPP and API varieties of many Chinese pharmaceutical enterprises have passed PQ upon years of efforts and development of the enterprises, and those enterprises are also actively developing the international pharmaceutical market. Wherein, Gulin Pharma has achieved good results as a pioneer. However, compared to Indian enterprises, Chinese enterprises still do not pay enough attention and have fewer varieties, and the number of enterprises with excellent export performance is less, therefore, Chinese enterprises still need to work harder.
-----------------------------------------------------------------------
Editor's Note:
To become a freelance writer of En-CPhI.CN,
welcome to send your CV and sample works to us,
Email: Julia.Zhang@ubmsinoexpo.com.