According to my analysis of medical insurance data in the previous article, China's national medical insurance has become an important guarantee of pharmaceutical product sales.
The negotiation process for AstraZeneca's oral hypoglycemic drug dapagliflozin flooded WeChat Moments, with the price negotiated from RMB5.62, to RMB4.72, to RMB4.62, to RMB4.50, to RMB4.40, and eventually to RMB4.36. "Price reduction" is still a key to the success of the NRDL negotiations in 2019.
The National Medical Products Administration of China (NMPA) has been vigorously implementing reform and issued many hallmark policies since 2017, such as the policies for consistency evaluation, priority review, overseas new drugs catering to clinical urgent needs, list of rare diseases, establishment of the National Healthcare Security Administration of China, NRDL negotiations, and centralized procurement. China is opening fast review tracks for the true blockbuster innovative drugs catering to clinical urgent needs, on the one hand, and it is also actively improving patients' ability to pay, on the other hand.
It is the best of times and it is the worst of times.
This article focuses on the 2019 NRDL negotiations, autoimmune diseases, AIDS, hepatitis C, and rare diseases.
I. Overview of the 2019 NRDL negotiations: 70 new pharmaceutical products, an average price decline of 60.7%
150 in total
According to the CCTV news, the list of 128 alternative pharmaceutical products for negotiation was review and selected by experts by voting, and 119 pharmaceutical products were determined as the new varieties for negotiation after the relevant enterprises confirmed their intention to negotiate; furthermore, 31 among the varieties listed via negotiations in 2017 needed renegotiating for renewal.
Negotiations for 97 succeeded
The pharmaceutical products for which the negotiations succeeded are mostly those newly marketed in recent years with high clinical values, involving over 10 clinical treatment areas such as cancers, rare diseases, hepatitis, diabetes, multi-drug-resistant tuberculosis, rheumatic autoimmune diseases, cardiovascular and cerebrovascular diseases, and digestive diseases.
From the perspective of key areas, the negotiations for the 5 essential drugs were all successful, and so were the negotiations for the 22 anticancer drugs, 7 rare disease drugs, 14 chronic disease drugs (including diabetes, hepatitis B, and rheumatic arthritis, etc.) and 4 pediatric drugs. Among the varieties for which the negotiations succeeded, 70 varieties are new, and 27 are "renewed".
Price decline by 60.7%
The average price decline of the 70 new pharmaceutical products has reached 60.7% and that of the 27 renewed pharmaceutical products has reached 26.4%, which can reduce the individual burden of patients by more than 80% and the burden from some pharmaceutical products by more than 95%.
Remarks: There were 36 varieties from the negotiated NRDL in 2017 in the negotiations this year (Editor's Note: in 2019), wherein, 5 (ticagrelor, abiraterone, rituximab, bortezomib, and lenalidomide) were not among the 2019 NRDL for negotiations because their generic drugs have been marketed, and the negotiations for 4 (fulvestrant, recombinant human interferon beta-1b, tolvaptan, and lapatinib) failed.
II. Autoimmune diseases: Humira, Remicade, Actemra, and Simponi are all listed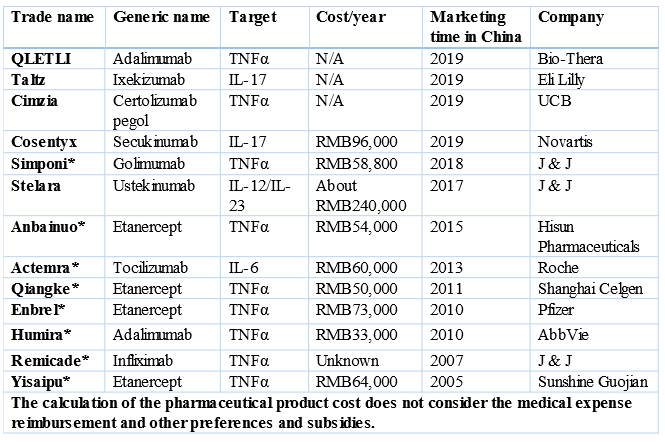 Tocilizumab: Adjusted from RMB1,925.00/piece to RMB830.00/piece, -57%, 60kg, about RMB60,000/year
Humira: Adjusted from RMB7,608.38/piece to RMB3,160/piece, -58%, further -59% in the NRDL negotiations, RMB33,000/year
Enbrel: Adjusted from RMB2,400/piece to RMB699/piece, -70%, RMB73,000/year;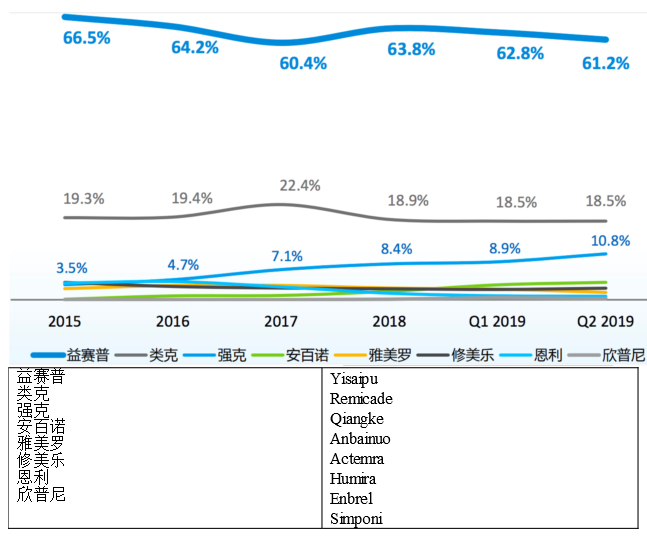 Source: 3SBio
There have been 8 macromolecular drugs for rheumatoid, psoriasis, ulcerative colitis, and Crohn's disease included in the NRDL after the 2019 NRDL negotiations. The structure of China's autoimmune disease drug market will change!
III. An STR for AIDS eventually included in the NRDL
A cruel fact is that the drug accessibility of AIDS patients in China is far from that of AIDS patients in Africa!
However, the negotiated NRDL in 2019 includes Gilead's AIDS drug Genvoya (i.e., Elvitegravir, Cobicistat, Emtricitabine, and Tenofovir Alafenamide Tablets), which is a start worth applauding. Chinese AIDS patients eventually welcome a complete single-tablet regimen (STR). It's hoped that Biktarvy can be the next AIDS drug to enter the NRDL!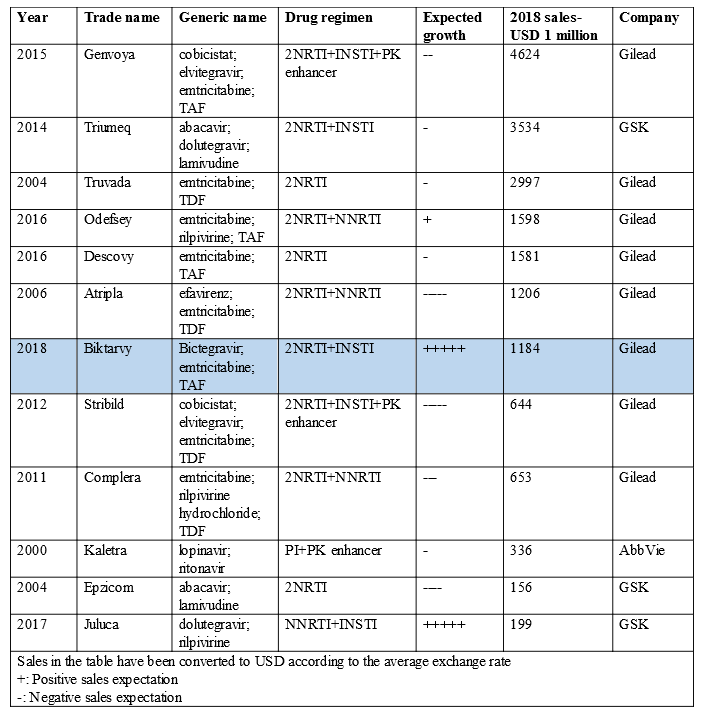 According to my analyses in previous articles: A Review of Star Pharmaceutical Products in the Financial Reports of Pharmaceutical Enterprises in 2019: Industry Trends (Part Two) and Changes of the Global HIV Drug Market in 10 Years: Gilead Sitting Atop, the Quadruple Regimen Genvoya Fast Growing into a Star of Today, we can know that TAF is an integrase strand transfer inhibitor (INSTI) STR and has become a mainstream regimen in global AIDS treatment. Genvoya and Biktarvy have been successively marketed in China in 2018 and 2019. And Genvoya has been included in the NRDL this time, which will greatly reduce the drug cost burden of Chinese AIDS patients and significantly increase the accessibility of this innovative drug.
For the longer term, Biktarvy will be the king in the future market because it is currently the smallest INSTI-based triple-therapy STR and has good safety and efficacy;
For the longer term, the market shares of the (long-acting) 2DRs represented by Juluca will increase year by year after AIDS becomes chronic. A trend to watch in the future is improving compliance and reducing drug exposure, which China shall pay attention to!
IV. Hepatitis C drugs: Epclusa listed in the NRDL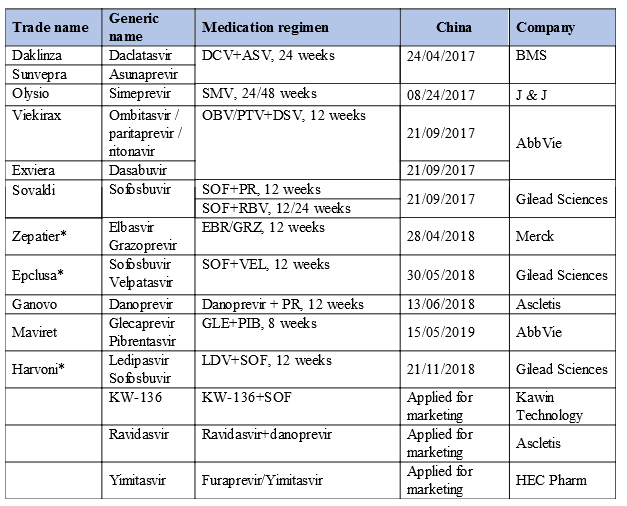 China will enter the new era of complete cure with all-oral DAAs as DAAs are approved for marketing in China.
China will enter the era of hepatitis C cure by following closely the EU and U.S. There have been 9 DAA regimens approved in China, with 3 DAAs at the marketing review stage; all of them are expected to be approved for marketing in 2019-2020. And we can see that the imported regimens included in the NRDL are better than the regimen of Ascletis.
According to the prices released by the enterprises so far:
1. Prices of imported drugs are between RMB58,000-60,000/12 weeks
2. Prices of Chinese-produced drugs are about RMB40,000/12 weeks
The inclusion in the NRDL of Zepatier, Epclusa, and Harvoni will greatly improve Chinese hepatitis C patients' health. We look forward to that Maviret can enter the NRDL next year!
V. Speeding up review and guaranteeing payments: Chinese patients' doctor-seeing environment is being rapidly improved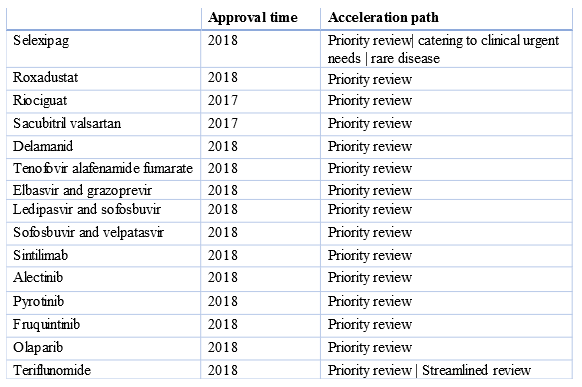 As mentioned at the beginning, since 2017, the NMPA has been focusing on the review reform and accelerating the marketing of blockbuster innovative drugs, overseas new drugs catering to clinical urgent needs and rare disease drugs in China; it has also been guaranteeing the payments, promoting the national agency reform (it has established the National Healthcare Security Administration of China) and implementing centralized procurement of pharmaceutical products and NRDL listing negotiations.
And those measures will undoubtedly become normalized!
Register as Visitor to CPhI China 2020!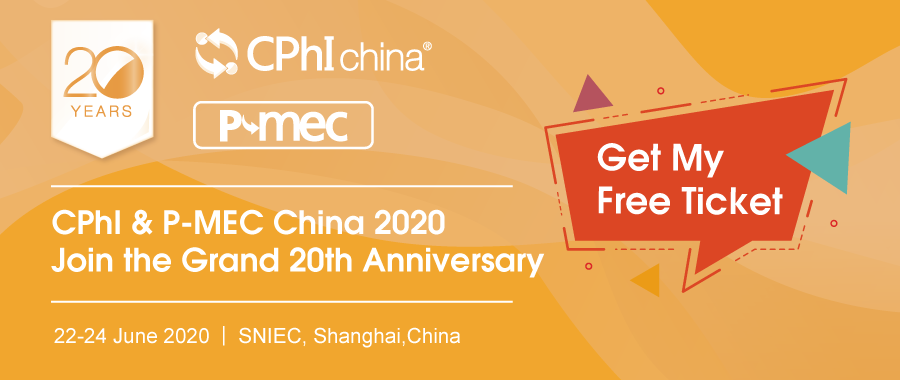 -----------------------------------------------------------------------
Editor's Note:
To become a freelance writer of En-CPhI.CN,
welcome to send your CV and sample works to us,
Email: Julia.Zhang@ubmsinoexpo.com.