There has been an increasing studies on Saffron use in medical condition within the last two decades.
A recent human clinical study published in the Journal of Psychopharmacology indicated the Spanish-based company's all-natural Saffron extract (Crocus sativus L.) Affron, combined with antidepressant drugs led to 41% decrease in depressive symptoms and was well tolerated in adults compared to a placebo after eight weeks treatment. (1)
Saffron
Phytomedicine Saffron
Saffron, crocus sativus L. is a perennial stemless herb and has been cultivated and consumed for centuries in Spain and other countries including Iran, and Greece. (2) One company called Pharmactive Biotech Products, grows and cultivates the Saffron in its fields within the terrain of Castilla-La-Mancha in Spain. The arid plains and dry, warm Mediterranean climate of the region present ideal conditions for the cultivation of Saffron.
Saffron, obtained from the dried red-dark stigmas of Crocus sativus L., an important spice rich in carotenoids, is commonly consumed in different parts of the world. Saffron as a medicinal plant has many therapeutic effects. Phytochemical studies have reported that the most biologically active components are two carotenoids, crocin and crocetin. These active compounds have shown several useful pharmacological effects such as anti-convulsant, anti-depressant, anti-inflammatory, anti-tumor, radical scavenger effects, cardioprotective, neuroprotective, and anxiolytic, learning and memory-improving effects, etc. (3)
Depression
Depression is a serious disorder of the brain that can result in emotional, behavioral and health problems. Many factors may play a role in depression, including genetic, biological, environmental, and psychological factors.
Depression is a common mental health problem with high economic and social costs. According to the National Institute of Mental Health (NIMH), depression is one of the most common mental disorders and it is estimated that 17.3 million adults in the United States had at least one major depressive episode. This number represented 7.1% of all U.S. adults. (4)
Some complications associated with depression including anxiety, panic disorder or social phobia, alcohol or drug misuse, pain or physical illness, family conflicts, relationship difficulties, and work or school problems, excess weight or obesity, which can lead to heart disease and diabetes, social isolation, suicidal feelings, suicide attempts or suicide, self-mutilation, such as cutting and premature death from medical conditions.
Currently, some treatments are available for patients with depression such as psychotherapy, electroconvulsive therapy, and antidepressant drugs. Due to safety concerns, adverse effects, limited efficacy and low tolerability associated with many antidepressant and anti-anxiety medications, plant-based Saffron with less toxicity and more favorable outcome could be a preferred choice.
Clinical Studies
Saffron, a spice derived from the flower of Crocus sativus, has now undergone several clinical trials examining its anti-depressant effects. In a recent randomized, double-blind, placebo-controlled study, after eight weeks of supplementation with the Spanish-based company's Saffron extract, Affron showed strong clinical evidence significantly reduced depressive symptoms by 41% compared to the placebo group (21% reduction). (1)
Affron is the first Saffron extract clinically studied to lower anxiety and reducing stress in young and middle-aged adults. The research data strongly suggest that Affron could be safely used with pharmaceutical anti-depressants in adults continuing to experience mild-to-moderate depressive symptoms. Interestingly, the results also suggested Affron supplementation may reduce some of the side effects from anti-depressants.
In another randomized intervention study compared Saffron and Sertraline (anti-depressant) on symptoms of depression among older people with major depressive disorders (50 cases, mean age=65 years; 70% males) were randomly assigned either to the Saffron condition (60 mg/day) or to the Sertraline condition (100 mg/day) for six consecutive weeks. The study suggests that both Saffron and Sertraline have the potential to significantly decrease symptoms of depression over time without interaction effect. (5)
These results are clinically relevant, because depressive disorders in older people is a health concern, and also because Saffron appears to be a powerful anti-depressant for older people, who might be more reluctant to the use of synthetic drugs.
Previously another randomized, double-blind, placebo-controlled study, 123 individuals with major depressive disorder were allocated to one of four treatment conditions, comprising placebo, low-dose curcumin extract (250mg b.i.d), high-dose curcumin extract (500mg b.i.d), or combined low-dose curcumin extract plus Saffron (15mg b.i.d) for 12 weeks. The results suggested that active drug treatments combined Saffron/curcumin and comprising differing doses of curcumin were effective in reducing depressive and anxiolytic symptoms in people with major depressive disorder. (6)
Several clinical trials have been reported about the antidepressant and anti-anxiety properties of Saffron and demonstrated that Saffron and its active constituents possess antidepressant properties similar to those of current antidepressant medications such as fluoxetine, imipramine, and citalopram, but with fewer reported side effects. (7) Saffron's antidepressant effects potentially are due to its serotonergic, antioxidant, anti-inflammatory, neuro-endocrine and neuroprotective effects.
Furthermore, more clinical trials on the effects of Saffron have been studied on the anti-Alzheimer effect, it demonstrated more effective than the placebo, and as effective as anti-Alzheimer drug, donepezil. Two clinical studies on antipruritic and complexion promoter in the skin care effects of Saffron both confirmed that Saffron was more efficient than the placebo. One trial proved that in addition to the weight loss treatment, Saffron could reduce snacking frequency. Several other clinical trials conducted on women with premenstrual syndrome showed that Saffron could reduce suffering symptoms more than the placebo and similar to standard treatments. (3)
Also, Saffron is not toxic, non-mutagenic, non-antimutagenic and non-comutagenic. All-natural spice-saffron-also become the focus of recent interest as antitumor agent. (8) For instance, Saffron has been used in Mexico as a new and promising chemoprevention (defined as the use of natural or synthetic agents to prevent or to block the development of cancer in human beings) strategy in the oncology. (9) The study indicated that Saffron could be used as a potential cancer chemopreventive agent in clinical trials.
Based on these results and literature data, more importantly, due to high safety level of this phytomedicine, Saffron can be applied in clinical trials or drug developments for majority of its pharmaceutical effects.
Currently, this company has introduced its Affron, all-natural, non-GMO Spanish Saffron extract (Crocus sativus L.) to the U.S. market. The company claimed its formulation offers the lowest dosage threshold on the market at 28 mg per day—with proven bioavailability and rapid one-hour absorption.
References:
1 J. Psychopharmacol. 2019 Nov;33(11):1415-1427
2 J Med Plants 2009; 28: 1-23 )
3 Drug Res (Stuttg). 2015 Jun;65(6):287-95.
4 https://www.nimh.nih.gov
5 Psychiatry Res. 2019 Dec;282:112613
6 J. Affect Disord. 2017 Jan 1;207:188-196.
7 J. Affect Disord. 2018 Feb;227:330-337)
8 Arch Latinoam Nutr. 1997 Sep;47(3):195-202.
9 Rev Invest Clin. 2002 Sep-Oct;54(5):430-6.
Remark:
Author is not affiliated with the Spanish-based company and it's Affron product.
Author Biography
Lin Zhang, Ph.D., senior director of a health care industry company in the United States. With the experience in clinical medicine, biotechnology, health industry and other fields, he is responsible for the research and development of plant medicine, functional food and health products. He was a clinician and worked for the National Cancer Institute, FDA and the National Cancer Center of Japan for many years.
Register as Visitor to CPhI China 2020!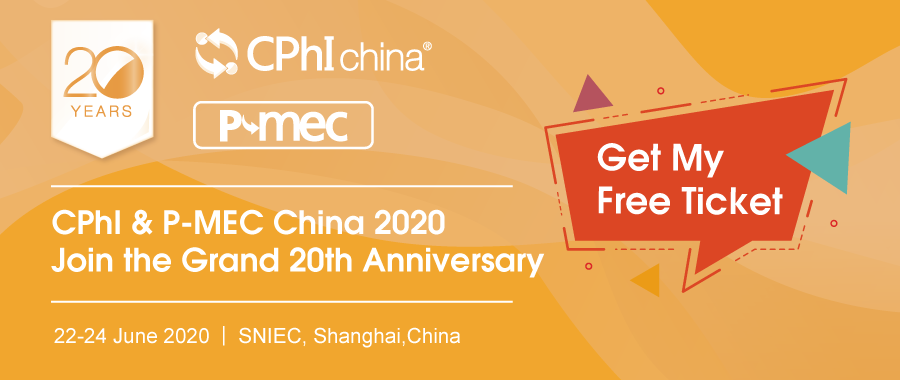 Editor's Note:
To become a freelance writer of En-CPhI.CN,
welcome to send your CV and sample works to us,
Email: Julia.Zhang@ubmsinoexpo.com.